China will boycott G20 event in Kashmir
Beijing will not send its delegation to a G20 meeting held in the Indian-controlled part of Kashmir ...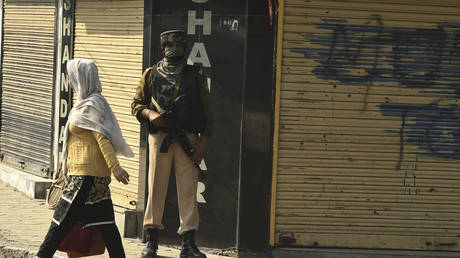 Beijing said its officials will not travel to the disputed territory
China will skip the upcoming G20 event in the Indian-controlled part of disputed Kashmir, Chinese Foreign Ministry spokesman Wang Wenbin said on Friday.
"China firmly opposes holding any form of G20 meetings on disputed territory. We will not attend such meetings," Wang said while answering a reporter's question at his regular press conference.
The G20 Tourism Working Group session will be held on May 22-24 in Srinagar as part of a series of events tying into the G20 leaders summit in New Delhi in September.
According to Indian media, around 60 delegates are expected to attend the Srinagar meeting.
Saudi Arabia and Türkiye have also decided to skip the Kashmir event.
In 2019, India reorganized the Muslim-majority state of Jammu and Kashmir into two separate entities, prompting strong protests from neighboring Pakistan, which views the region as being illegally occupied by India.
Beijing and New Delhi have a territorial dispute in the Himalayas, where soldiers from both sides have engaged in several bloody skirmishes along the de facto border since 2020. In February, Indian and Chinese officials met in person for the first time in more than three years in an effort to defuse the tensions.
During his trip for the G7 summit in Japan on Friday, Indian Prime Minister Narendra Modi said that relations with Beijing must be based on mutual respect. "Peace and tranquility in the border areas are essential for normal bilateral ties with China," Modi told Nikkei Asia. At the same time, he stressed that India was ready to defend "its sovereignty and dignity."