Homeless UK man stops armed driver's drug-fueled rampage: 'I had to act'
A homeless man in England was praised by police for his actions in helping subdue an armed driver who was high on drugs when he struck a cyclist and attempted to flee the scene.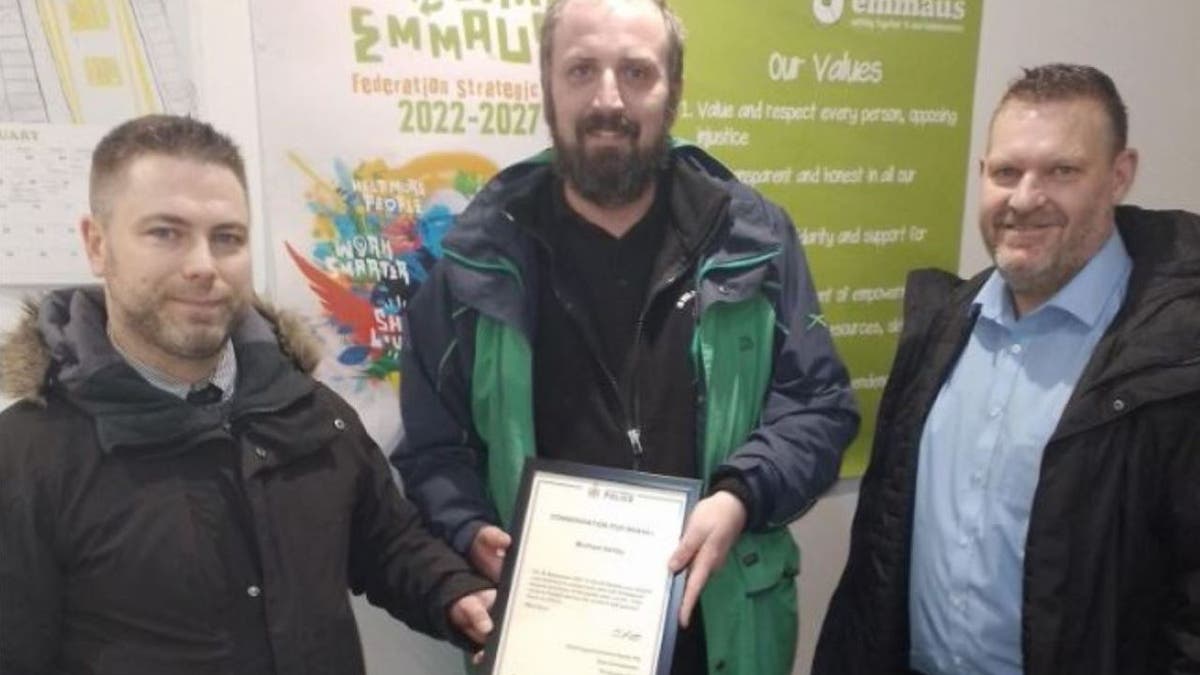 A homeless man in the United Kingdom is being praised as a hero after he helped stop an armed man on a violent drug-induced rampage and held him until police arrived.
Michael Ashby, a 34-year-old resident of the homeless charity Emmaus North East, is being credited with helping detain an armed man who deliberately ran over a cyclist and smashed into another car at a busy intersection in South Shields, England, last year, the charity said in a press release.
The suspect, who was under the influence of heroin and cocaine and armed with a knife, was trying to break into a car in order to flee the scene when Ashby stepped in and disarmed the suspect, pinning him to the ground until police arrived at the scene.
"I didn't have time to think about myself being in danger," Ashby said. "I could see the threat to life and knew I had to act. The only thing that mattered to me was keeping those people safe from this man."
'SMILING' NURSE LUCY LETBY ACCUSED OF KILLING BABY GIRL AFTER FOUR ATTEMPTS
The local Northumbria Police Department is hailing Ashby as a good Samaritan and gave him a commendation for his actions this month. 
 "This could so easily have been a very different outcome," Detective Chief Inspector Sean Mcguigan of the Northumbria Police Department said. "Thankfully, nobody was injured – and that is largely due to the extraordinary actions of Michael. We would always discourage the public from risking their own safety, but it's important to recognize examples of bravery such as this."
ARMED AMAZON EMPLOYEE STOPS SHOOTER WHO OPENED FIRE AT ARIZONA FACILITY: 'GOOD SAMARITAN'
Emmaus North East provides housing, support and work for up to 22 homeless individuals at a time and has supported more than 80 people experiencing homelessness since opening its doors in 2017.
"Michael has been a companion at Emmaus North East for four years," Ruth Parker, chief operating officer at Emmaus North East, said in the press release. "He is always happy to go above and beyond in our community, taking on additional responsibilities for security and the care for others."
"It does not surprise me that Michael went out of his way to protect others and the neighborhood around us when there was a serious incident, despite this being a very dangerous situation. We are all really proud of him and the commendation he has received from Northumbria Police."