Russia allows Kazakhstan to use its pipelines to transport oil to Germany
Kazakhstan received approval from Moscow to deliver 300,000 tons of crude in the first quarter of 2023 to Germany using Russian pipelines Read Full Article at RT.com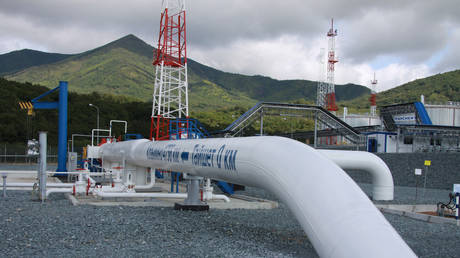 Astana will export 1.2 million tons of crude to Berlin this year to cover some of the volume previously supplied by Moscow
The Russian Energy Ministry has approved the delivery of Kazakh oil to Germany using the infrastructure run by Transneft, a state-owned pipeline transport company and operator of Russia's section of the Druzhba pipeline.
Oil transportation company KazTransOil will deliver 300,000 tons of crude in the first quarter of 2023 "in the direction of the Adamova Zastava oil delivery point for further delivery to Germany," the company's press service said in a statement on Friday.
The operator added that shipments of this amount of crude are scheduled for the transit of oil from CIS member states through Russia via the system of main pipelines.
Berlin stopped imports of Russian oil via pipelines on January 1, despite the fact that the latest EU embargo exempts piped deliveries of crude to the bloc from the sanctions-hit nation.
Earlier, Kazakhstan's energy minister, Bolat Akchulakov, said that in 2023, the country would supply 1.5 million tons of oil to Germany with a possible increase of future shipments to 7 million tons.
READ MORE: Germany sticks to pledge on Russian pipeline-oil imports
Transneft spokesman Igor Demin noted that the "volumes that used to flow from Russia to Germany cannot be replaced by Kazakhstan." He explained that while Russia once shipped up to 20 million tons of oil a year to Germany and another 10 million tons to Poland via Druzhba, Kazakhstan is only able to pump 3-7 million tons.
On December 29, Kazakhstan's KazMunayGas applied for the transit of 1.2 million tons of oil in 2023 via Russia. Deputy Prime Minister Aleksandr Novak said that Moscow was ready to approve Kazakhstan's request.
Germany confirmed that the refinery in Schwedt had booked capacity in the pipeline system for Kazakh oil for January onwards. Schwedt is the country's fourth-largest refinery with a capacity of 11.6 million tons of oil products per year. It supplies 90% of the fuel in Berlin. Russian oil giant Rosneft held a 54.17% stake in the enterprise until last September, when Germany placed the company's local units in trusteeship, handing control of the refinery to the country's energy market regulator.
For more stories on economy & finance visit RT's business section