World Bank urges debt restructuring for poor countries
The World Bank has called for a solution to help heavily indebted developing nations Read Full Article at RT.com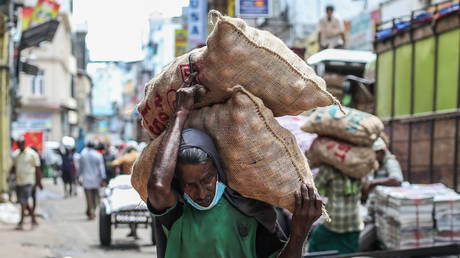 The step is necessary to resume investments, the organization says
The World Bank will look for solutions to the mounting challenges facing developing countries, the organization's president, David Malpass, has vowed ahead of its spring session.
"Resolving the impasse in debt restructurings, especially for the world's poorest countries, is going to be at the center of discussions," Malpass wrote on Sunday in a blog. The World Bank Group-IMF Spring Meetings are set to be held this week.
He indicated that he will discuss the issue with IMF Managing Director Kristalina Georgieva and the finance ministers of India, Ethiopia, and Jamaica. "I'm looking forward to discussions of the debt crisis itself and approaches to achieving debt transparency and sustainability," Malpass wrote.
The official added that he would like to see "serious consideration of a debt 'standstill' meaning formal debt service suspension at the request of the debtor country at the beginning of debt restructuring process."
Malpass outlined two fundamental challenges, asserting that the debt restructuring process has not moved forward significantly, and that there has not been enough discussion on ways to take action toward debt sustainability.
According to the World Bank president, creditors are spending "vital months" discussing issues that should be agreed on beforehand, such as steps in the restructuring process, the process and timeline to reconcile debts, and how to handle cut-off dates.
"It is urgent that we make progress: countries need to achieve transparent, sustainable debt burdens in order to restart investment, which has slowed to a standstill," Malpass stressed.
The World Bank has indicted that global debt has ballooned in recent years. Between 2011 and 2019, public debt in a sample of 65 developing countries reportedly increased by 18% of GDP on average and by much more in several cases, such as sub-Saharan Africa, where debt jumped by 27% of GDP on average. The coronavirus pandemic led to the largest one-year increase in debt since World War II in 2020, but a massive debt build-up had been underway for a decade before, the World Bank said in a 2022 report.
It highlighted that nearly 60% of the world's poorest countries are in debt distress or at high risk of it, with the danger spreading to some middle-income countries. "High inflation, rising interest rates, and slowing growth have set the stage for financial crises of the type that engulfed a series of developing economies in the early 1980s," the World Bank wrote.
For its part, Russia has written off more than $20 billion in debt accumulated by African countries during the Soviet era. Back in 2014, Moscow forgave 90% of cash-strapped Cuba's $35.2 billion debt to the Soviet Union. Last year, the Russian government agreed to postpone some debt payments owed by Cuba until 2027.