LeBron James breaks NBA scoring record
LeBron James has broken the NBA's all-time scoring record, surpassing the 38,387-point mark previously set by Kareem Abdul-Jabbar Read Full Article at RT.com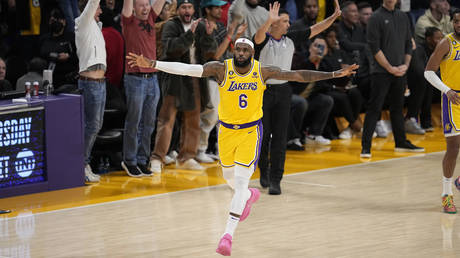 The LA Lakers star surpassed the milestone of 38,387 points against the Oklahoma City Thunder on Tuesday night
LeBron James officially became the NBA's all-time record points scorer as he surpassed Kareem Abdul-Jabbar during the LA Lakers' game against the Oklahoma City Thunder on Tuesday night.
The action at Crypto.com Arena in Los Angeles was paused after James scored the 38,388th point of his career with a fadeaway jump shot in the third quarter.
38 years old.
39 year-old record.
38 points tonight…

38,390 and counting. #ScoringKing pic.twitter.com/HBfuICH0dX

— NBA (@NBA) February 8, 2023
James moved beyond the previous record of 38,387 points set by former Lakers star Abdul-Jabbar, who was on hand to mark the occasion. Both he and NBA commissioner Adam Silver walked onto the court to congratulate the 38-year-old James.
"To be able to be in the presence of such a legend as great as Kareem, it's very humbling. Please give a standing ovation to the Captain, please," James said as he paid tribute to Abdul-Jabbar.
James thanked his family and fans for allowing him to "be a part of something I've always dreamed about."
Later in a press conference, the Lakers star said he had "kind of teared up a little bit" when he scored the record-breaking shot, which comes in his 20th season in the NBA.
LeBron on the emotions of his record-breaking night. #ScoringKing

Hear more from him and the Lakers: