Riley Gaines laughs off Milwaukee protesters after 'f--- you!' chants: 'Shiver me Timbers, I'm so scared!'
Riley Gaines laughed off protesters in Milwaukee who directed their obscenities at her while she was in the city for an event before the Republican debate.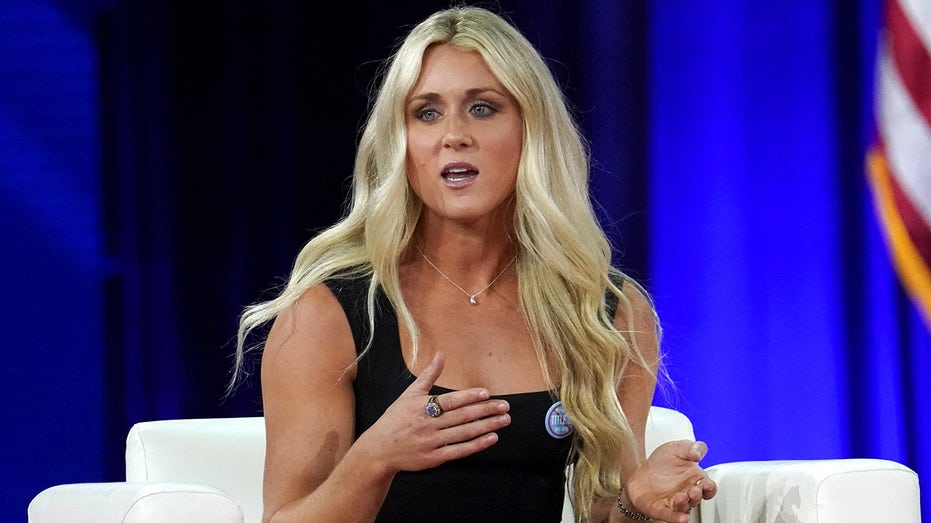 Riley Gaines laughed off demonstrators in Milwaukee who protested against her appearance at an event at the Leadership Institute ahead of the Republican presidential debate.
Protesters took to what appeared to be the quiet streets of Milwaukee and screamed, "F--- you, Riley!" They shouted the phrase multiple times before yelling, "Go home Riley" and "Can't swim Riley."
Videos shared with Fox News Digital above and below show the demonstrations. The protesters also held up a sign that read, "Stop trans genocide" and "F--- you Riley."
Gaines, the director of the Riley Gaines Center at the Leadership Institute, laughed off the demonstration on X, formerly known as Twitter.
"Shiver me Timbers, I'm so scared!!!!!!!!" she wrote on Wednesday.
She added: "the only things I've found protestors can say about me is 1) some variation of calling me a bigot 2) calling me ugly 3) telling me I should have just swam faster and trained harder if I wanted to win. But now we've unlocked 'Go away' and a sign that says 'bye Riley.'"
Gaines also joked on the social media platform that the activists forced her into retirement.
"Sike! If you really think this does anything other than make me chuckle and resort to prayer for them, you would be wrong. Trans genocide does not exist. I'm advocating for the bare minimum: privacy, safety, and fairness for women. & I CAN swim," she wrote.
Earlier this month, Gaines was targeted by "hostile" demonstrators who gathered in Texas in opposition to the "Save Women's Sports Act."
Gaines was joined by Texas Gov. Greg Abbott and others at the Texas Women's Hall of Fame at Texas Woman's University in Denton for a ceremonial signing of the bill, which had been signed into law in June.
Gaines is the host of the "Gaines for Girls Podcast" on OutKick and will be one of the co-hosts on "OutKick on FOX" on Sunday at 10 p.m. ET.
Fox News' Chantz Martin contributed to this report.