Serbian president denies ill-health reports
Serbian President Aleksandar Vucic has refuted speculation that he underwent emergency hospitalization...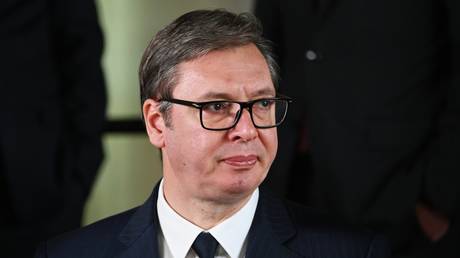 Some media outlets claimed that Aleksandar Vucic had been taken to hospital
Serbian President Aleksandar Vucic has denied suffering health problems, after reports claimed that he had been rushed to hospital overnight.
"I am fine. I am going on a tour today starting at noon," the Serbian leader told the local branch of the Russian news network Sputnik on Friday morning.
Vucic is scheduled to visit the city of Zajecar in eastern Serbia later in the day and then deliver a speech in the nearby Sokobanja municipality.
Some news outlets in Serbia claimed that the president had been admitted to hospital overnight for emergency treatment. The rumor apparently started on social media and also claimed that Vucic had not been taken to a military medical facility where senior government officials are normally treated.
On Tuesday, Turkish President Recep Tayyip Erdogan had to cut short a live interview after feeling ill. The episode sparked speculation that he was suffering from a heart condition.
The politician said he had a relatively minor infection and that doctors had advised him to stay at home for one day. He subsequently took part in the opening ceremony of Türkiye's first nuclear power plant on Thursday via a video link.