Russia accuses West of fueling conflict, avoids discussing Ukraine in speech on day 5 at UN General Assembly
The fifth day of the United Nations General Assembly took place in New York on Saturday with key countries such as Russia, Saudi Arabia and Belarus speaking.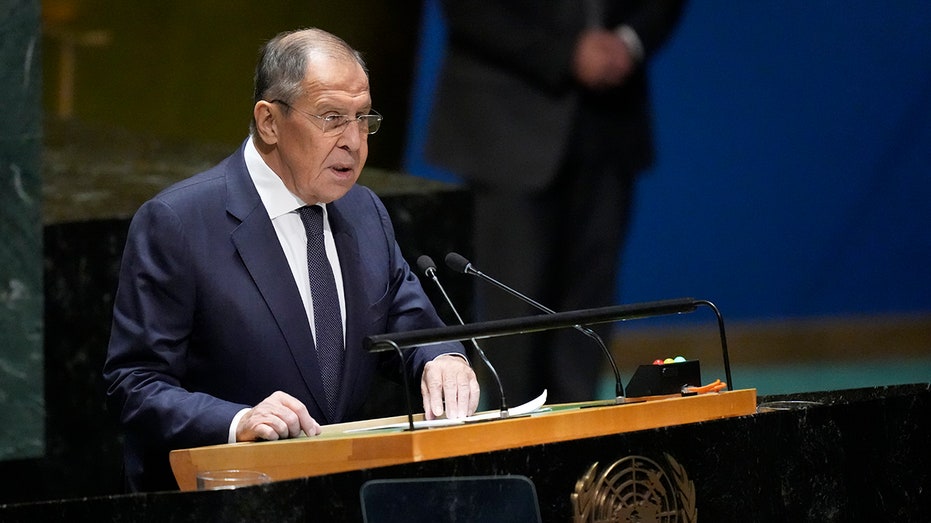 Russian Foreign Minister Sergey Lavrov accused the United States and the West of continuing to "fuel conflicts" that "divide humanity," while conspicuously staying quiet on the country's war in Ukraine in a fiery speech Saturday on the fifth day of the United Nations General Assembly meeting in New York City.
"The U.S. and its subordinate Western collective are continuing to fuel conflicts which artificially divide humanity into hostile blocks and hamper the achievement of overall aims," Lavrov said. "They're doing everything they can to prevent the formation of a genuine multipolar world order.
"They are trying to force the world to play according to their own self-centered rules."
As for the 19-month war in Ukraine, he recapped some historical complaints going back to the 1991 breakup of the Soviet Union, and alluded to the billions of dollars that the U.S. and Western allies have spent in supporting Ukraine. But he didn't delve into the current fighting.
On Tuesday, Ukrainian President Volodymyr Zelenskyy addressed the U.N. General Assembly, blasting Russia for weaponizing everything from food supplies to nuclear energy in its desperation to conquer his country.
"When hatred is weaponized against one nation, it never stops there," Zelenskyy said. "The goal of the present war against Ukraine is to turn our land, our people, our lives, our resources into weapons against you — against the international rules-based order."
Saudi Arabia's Minister for Foreign Affairs Prince Faisal bin Farhan Al-Saud was less fiery. He called for the end of the war in Ukraine, an independent state for Palestine with Jerusalem as its capital and said resolving the crisis in Syria will lead to stability in the region and the world.
On Friday, Israeli Prime Minister Benjamin Netanyahu told the U.N. General Assembly that Israel is "at the cusp" of a breakthrough in a peace agreement with Saudi Arabia.
Netanyahu's remarks came in response to Fox News chief political anchor and "Special Report" anchor and executive editor Bret Baier's interview with Saudi Crown Prince Mohammed bin Salman (MBS) this week about the ongoing talks between the kingdom and Israel.
"Every day we get closer, it seems it's for the first time real. We get to see how it goes," said the prince, who added that an agreement rests on the treatment of the Palestinians, including the creation of a Palestinian state.
Also in his speech Saturday, Al-Saud noted that Ukrainian President Volodymyr Zelenskyy attended an Arab summit in Jeddah earlier this year.
He added that Saudi Arabia is "deeply concerned" about the war in Sudan, which the U.N. says has left at least 5,000 people dead, saying that Saudi Arabia is helping to get citizens out of the country and continues to contribute money to the Sudanese people.
Afghanistan must not be a haven for terrorists, Al-Saud said, adding that Saudi Arabia has made "great strides" against terrorism and extremism.
"The world must show fearlessness and determination when combating extremism," he said.
Saudi Arabia wants to cooperate with OPEC and preserve the stability of the global crude oil market, he added.
Sergei Aleinik, Belarus' minister for foreign affairs, called on the United States and the West to lift their "unilateral, illegal sanctions" — related to Russia's war in Ukraine — that he claimed have led to the "starvation" of the people in the affected countries.
The "global food crisis is manmade," he said. "All we have to do is lift illegal barriers."
He also accused the U.N. of ostracism, saying that trying to restrict member states is "illegal" and accused "certain member states" of politicizing the organization, which he claimed "discredits" the U.N.
"It's not for settling scores," he said.
Aleinik said that Belarus, an ally of Russia, hates to see Ukrainians "suffering," but put the blame for the war on U.S. and Western support for Ukrainian resistance.
"Ukraine has become a pawn of the west to preserve its own hegemony," he claimed, adding that the U.S. is "determined to continue the war down to the last Ukrainian" by providing weapons to Kyiv.
"Belarus has always supported peace in Ukraine," he said. "We continue to prepare to do everything in our power to this end."
Eamon Courtenay, Belize's minister for foreign affairs, foreign trade and immigration, said in his speech that "trust and solidarity" are in diminishing supply globally, accusing the United States of treating migrants inhumanely as the southern border. He also faulted the U.S. for its "illegal" blockade of Cuba as "evil."
"We condemn it and call for its immediate removal," he said, adding, "American policy has no other objective than to punish ordinary Cubans."
He also claimed there's prolonged suffering in the developing world because of the refusal of vaccine makers to waive their intellectual property rights, so other countries can make vaccines.
To restore trust and solidarity, Courtenay said international financial institutions need to be reformed and said there needs to be more non-Western representation on the UN Security Council. The council's five permanent members include the U.S., U.K., France, China and Russia.
Courtenay called for reparations from countries that participated in the historical slave trade, saying that people counties that were victimized by slavery continue live in poverty.
The minister also accused Israel of apartheid with the Palestinians and called for the inclusion of Taiwan in the UN.
He called Russia's war in Ukraine "devastating" condemning Moscow for trying to redefine international borders through force, advising, the "price is too high, it is time for peace."
Venezuela Minister of Foreign Affairs, Yvan Gil Pinto, said the United Nations hasn't "fulfilled its foundational purpose" and needs to be restructured because it too often can't overcome the "unilateralism of countries that by reproducing colonial and imperial [ideologues] seek to assert themselves above the principles enshrined in this organization's founding."
He further claimed that the U.N. is often instrumentalized by the U.S. and its allies for its own interests.
"How many more resolutions must this assembly adopt once and for all to put an end to the criminal blockade against our sister Cuba," he asked rhetorically, while also advocating for the Palestinians to have an independent state.
He said that Western countries must settle the "historical debt of colonization" and slavery through reparations for countries that were victimized by the trade.
Pinto also accused the U.S. in "believing itself to be the Sovereign of our continent," of "imperial aggression" by intervening in a 200-year-long territorial dispute in the territory of Guayana Esequiba and of "trying to appropriate our oil resources" with the help of ExxonMobil and the Guyana government.
He defended Julian Assange as a "political target of those who cannot forgive him for revealing the true nature of imperialist interventionism" and claimed that Venezuelan diplomat Alex Saab was "illegally kidnapped by the United States" and called for his release.
Saab was charged with money laundering by the U.S. and extradited in 2021 from the Republic of Cabo Verde.
He also called for the "complete immediate and unconditional end to sanctions and blockades."
Disinformation about Venezuela has been spread by major media organizations, but the truth about Venezuela has always prevailed, he claimed, adding that the country would not yield to blackmail or threats.
Meanwhile, nearly 500,000 Venezuelan migrants, including 4,000 Wednesday at the southern border in Eagle Pass, Texas, are in the U.S. to escape their country's economic and political strife.
Norway's minister of international development, Anne Beathe Tvinnereim, spoke at length about her country's opposition to the war in Ukraine.
She said Russia's "war of aggression" is of "great concern" to Norway, saying the Kremlin has "violated fundamental principles of international law."
"Russia is our neighbor," she began. "It is responsible for a blatant breach of the UN charter. It has violated fundamental principles of international law. It has created a grave international crisis … launching an unprovoked and illegal war in the most brutal manner with the complete disregard for human life and the rules of war."
She also accused Russia of risking a "grave nuclear incident" by occupying Europe's largest nuclear power plant in Zaporizhzhia.
She added that Norway has provided "extensive civilian, miliary and humanitarian support to Ukraine and will do so for as long as it takes."
The pursuit of peace is important but "on the terms defined by Ukraine, the victim of illegal aggression," she stated.
She spoke about Norway's "enhanced climate targets," including a "green industrial future" and of transforming the food system to reach climate goals and having a sustainable ocean economy.
"Dialogue is at the heart of diplomacy," she said, speaking about peace between Israel and Palestine and supporting peace agreements in Colombia and the Horn of Africa.
She said Norway has also engaged with the "defacto authorities" of Afghanistan to advocate for women and girls deprived of their rights by the Taliban.
"Societies prosper when women and girls participate on an equal footing and are free to exercise their sexual and reproductive health and rights," she added.
Fox News Digital's Peter Aitken and Louis Casiano, and The Associated Press contributed to this report.