Putting India in 'difficult situations' is Hardik's priority as T20I captain
"It's going to help us to be ready for the big games whenever the opportunity comes," Hardik says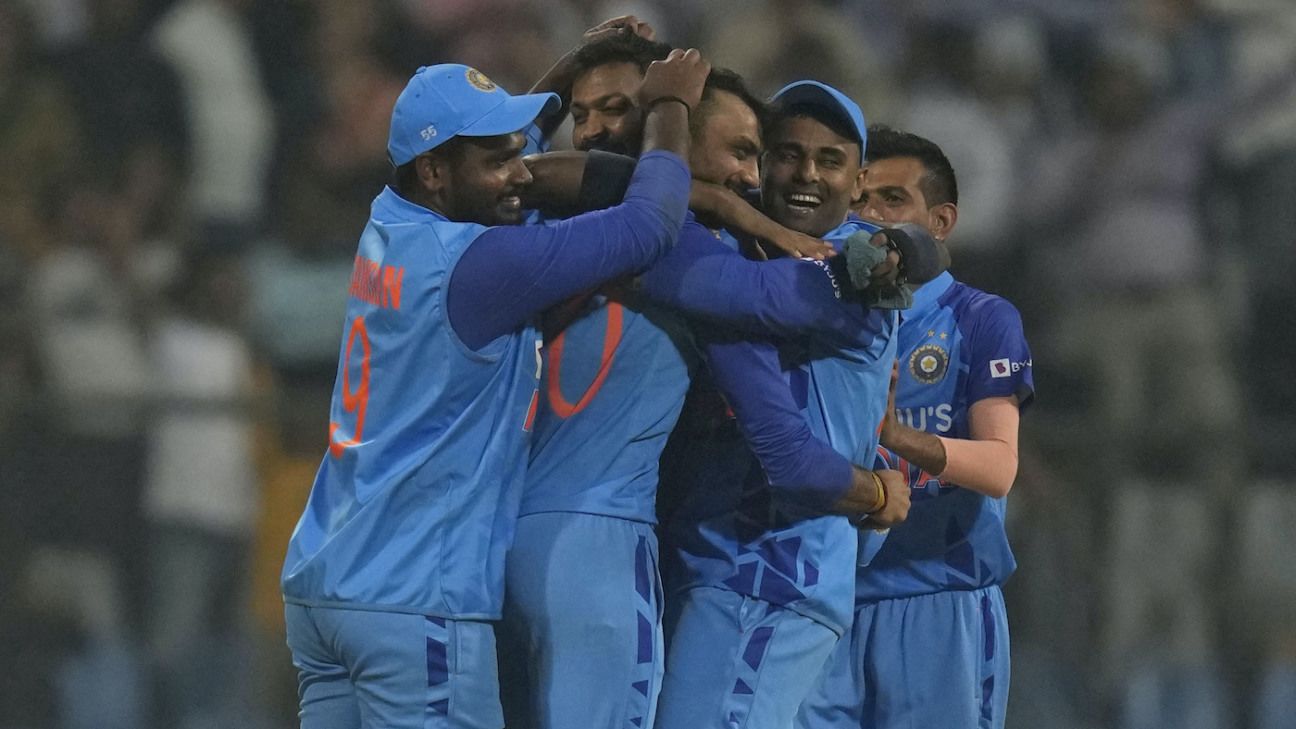 "It's going to help us to be ready for the big games whenever the opportunity comes," Hardik says
Hardik Pandya is not afraid of putting his side in difficult situations during bilateral T20Is, long-term gains being more important than short-term ones - he said as much at the toss during the first T20I against Sri Lanka and reiterated it after the game.
The record at Mumbai's Wankhede Stadium favoured chasing sides, who had won 24 of the 41 T20s played there in the last two years before Tuesday's game. So it was understandable that Dasun Shanaka opted to field after winning the toss.
Hardik, who is leading India in Rohit Sharma's absence, was fine with that. "To be honest, we were going to bat first," he said at the toss. "It is a chasing ground, but I wanted our team to be challenged. In bilaterals, we want to put ourselves in more difficult situations than [we] generally [do]. So I am happy to bat because had we won the toss, we anyway would have batted first."
It's possible Hardik was just playing mind games. But it's true that batting first has been the Achilles' heel for India in T20Is. They have lost eight games in multi-team T20I tournaments since March 31, 2016, when they lost to West Indies in the semi-final of the T20 World Cup. On all those occasions, they were batting first.
Then, with Sri Lanka needing 13 from the final over as they chased 163 for victory, Hardik gave the ball to Axar Patel when he himself had an over left. Chamika Karunaratne pulled Axar's third ball for a six to bring the equation down to five from three, but Axar held his nerve and did the job for India.
At the post-match presentation, Hardik was asked why he took that gamble. One reason behind that could be that Hardik was struggling with cramps, but he again talked about challenging the players by creating tough situations.
"How I am looking at all these games is, I want to put the team in difficult situations because it's going to help us in big games," he said. "Bilaterals are something which we are very good at, but this is how we are going to keep challenging ourselves. Yes, we might lose a game here and there, which is fine, I am okay with that, because in the long term, it's going to help us to be ready for the big games whenever the opportunity comes."