Prosecutors push to delay Trump trial
The US special prosecutor leading the criminal case against former President Donald Trump has requested a four-month delay for the trial Read Full Article at RT.com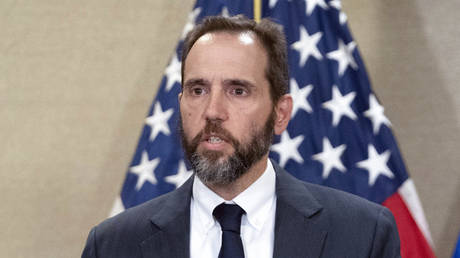 Attorneys on the classified document suit need time to obtain security clearances, the Justice Department said
The US special prosecutor leading the criminal case against former President Donald Trump has requested a four-month delay for the trial, claiming both the government and the defense need more time to prepare. 
In a court filing submitted on Friday, US Special Counsel Jack Smith asked a federal judge to push back the trial to December 11, claiming the August date initially set by the court would "deny counsel for the defendant or the attorney for the government the reasonable time necessary for effective preparation."
"The case does involve classified information and will necessitate defense counsel obtaining the requisite security clearances," the filing said, adding that rules under the Classified Information Procedures Act would "inject additional time into the leadup to trial."
Moreover, even after Trump's defense team receives the proper clearances, Smith said that producing classified evidence will still be a time-consuming process, though he claimed the government had "swiftly" provided other material to the defense.
Read more

Trump barred from sharing evidence in secret documents case
Smith also filed a sealed list of witnesses that he believes Trump and his co-defendant, former presidential valet Walt Nauta, should be prohibited from speaking with about the case. The judge previously agreed with prosecutors that classified evidence should be kept under wraps throughout the trial.
The special counsel said Trump's lawyers do not oppose changing the original August 14 trial date, but added that he expects the defense to challenge the schedule proposed by the prosecution, which would set a September 5 deadline for discovery requests. The former president has yet to weigh in on Smith's latest filing.
Trump was indicted earlier this month on 37 felony counts related to the alleged mishandling of classified national security information, as well as obstruction of justice for not returning documents kept after he left office in 2021. The criminal charges came after federal agents recovered more than 300 classified documents from Trump's possession, some of them during an FBI raid on his Mar-a-Lago estate last summer. 
The 45th president pleaded not guilty to all charges at his arraignment in Miami on June 13 and has continued to deny all wrongdoing, repeatedly calling the case a "hoax" and a politically motivated "witch hunt."
READ MORE: More than half of Americans back pardon for Trump – poll