Le Pen can take power in France – Macron
Marine Le Pen may win the next election in France if issues gripping the country are left unaddressed, President Emmanuel Macron has said...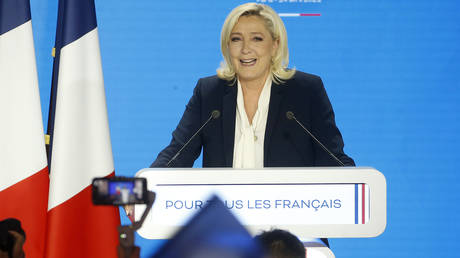 The right-wing opposition figure may win the next presidential election, the French president warns
French centrists will likely lose to right-wing politicians, namely Marine Le Pen, in the 2027 presidential elections if current "challenges" are left unaddressed, President Emmanuel Macron has warned.
Speaking to Le Parisien newspaper in an interview published on Sunday, Macron said Le Pen is set to become the biggest political winner of the ongoing turmoil in the country.
"Marine Le Pen will arrive [in power] if we are unable to respond to the challenges of the country and if we introduce a habit of lying or denying reality," the president warned.
Given the main tool of Le Pen and her likes was "populism," he went on, it was impossible for centrists to compete with the right-wingers in the field of making promises. Instead, they should win back the voters through real action, the president suggested. Namely, the incumbent authorities should somehow simultaneously succeed in "reindustrialization" as well as in "ecology" and a purported "fight for our public services," Macron suggested.
Macron also stood by his highly divisive pension reform, reiterating his stance that the only real mistake about it was not advertising the unpopular move to the public enough.
"Perhaps the mistake was not being sufficiently present to give substance to the reform and carry it myself," Macron said.
The pension reform, which included raising France's retirement age to 64 from 62, sparked mass protests and civil unrest, which continue across the country. Macron's decision to push through the extremely unpopular reform without a full legislative procedure has aggravated the tensions even more.
Le Pen, who unsuccessfully ran for president three times, losing his two latest bids to Macron, has accused Macron of creating a "total rupture" between the French public and the presidency. Speaking to BFM TV on Saturday, she said the incumbent present ended up "completely bunkered" with his reform.
"He can no longer leave the Elysée [presidential palace] without arousing the ire of a people he refuses to listen to and whose will he refuses to respect," she said, adding that Macron was the one "at the origin of the disorder, the chaos" that engulfs the nation.
Multiple recent polls indicated Le Pen has already overtaken Macron in public popularity in the wake of the continuing turmoil. For instance, a survey conducted for BFM TV by the Elabe group early in April showed Le Pen would score 55 percent and Macron 45 percent if pitted against each other in a run-off vote at the time. During last year's election, Macron defeated Le Pen by a comfortable margin of some 17 percent.