New sanctions against Russia may include transit ban – Bloomberg
The EU reportedly plans to prohibit the transit of certain goods through Russia in its next sanctions package...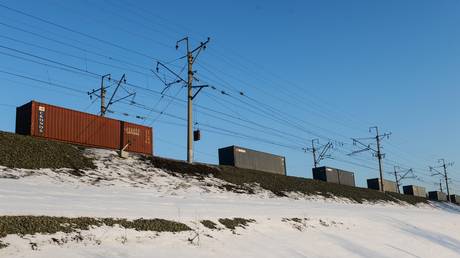 The measure would be part of EU's 11th package of restrictions, along with probable further curbs on even more Russian firms and entities
The EU is planning to prohibit the transit of certain goods through Russia in its next raft of sanctions, Bloomberg reported on Saturday citing sources close to the discussions. The new package aims to enforce previously introduced sanctions and to close any loopholes being used to evade them.
According to the report, the transit ban would cover technological goods and certain types of vehicles, which will no longer be allowed to be transported through Russian territory. According to a document seen by the news outlet, Poland, Estonia and Lithuania have been urging Brussels to adopt the measure to stop Russia from obtaining goods in transit and using them in the ongoing conflict with Ukraine or to enhance its industrial capacity.
Apart from the transit ban, the new sanctions package may target ships that don't turn on their navigation systems. Such vessels make it virtually impossible to know where they've carried their cargo, and the practice is seen as a potential way to evade sanctions.
The new package is also expected to include about 30 new listings and further restrictions on Russian firms and entities, the news outlet notes.
Sources said the new restrictive measures are unlikely to target Russia's state-run nuclear power corporation Rosatom. Despite calls to sanction the company over its alleged role in taking control of Ukraine's Zaporozhye nuclear power plant, the majority of member states are reportedly against sanctioning Russia's nuclear sector, and Brussels needs unanimous backing of all member states for the anti-Russia measures it adopts.
The bloc has so far approved and imposed ten rounds of punitive measures against Russia in response to the Ukraine conflict. It is not yet clear when Brussels' fresh sanctions package will be finalized.