Indian Air Force fighters jets crash in mid-air, killing pilot: See the wreckage
Two fighter jets in India's Air Force crashed into each other Saturday, leaving one pilot dead and two others injured and landing in an open field.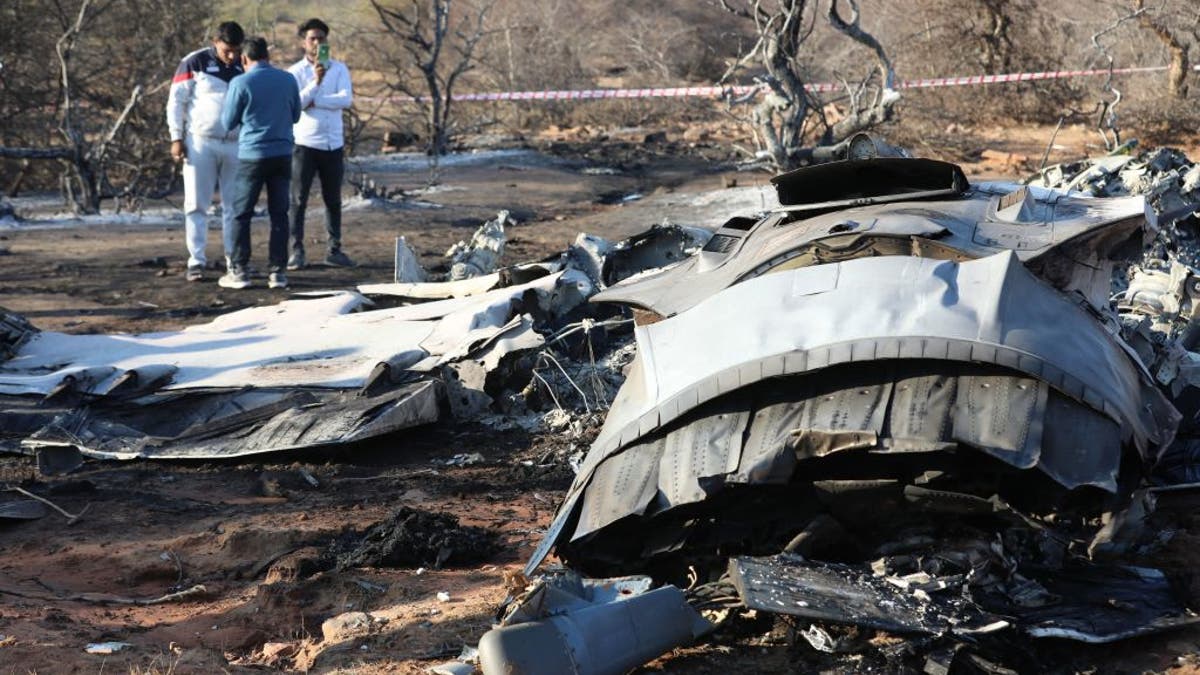 A plane crash involving two fighter jets in India has killed one pilot and severely injured the other. 
"Two fighter aircraft of IAF were involved in an accident near Gwalior this morning. The aircraft were on routine operational flying training mission," the Indian Air Force (IAF) wrote in a statement on Twitter. "One of the three pilots involved sustained fatal injuries."
"An inquiry has been ordered to determine the cause of the accident."
The crash on Saturday morning involved a Russian-made Sukhoi Su-30 carrying two pilots and a French-made Mirage 2000 with one pilot. 
INDIA, EGYPT SIGN AGREEMENTS TO ENHANCE TRADE, INVESTMENTS AND FIGHT TERRORISM
The planes crashed in an open field near no civilians. Villagers heard a blast-like sound and found parts of an aircraft in the nearby field.
While local outlets initially reported no known fatalities, the IAF reported that Wing Commander Hanumanth Rao Sarathi suffered fatal injuries, adding that "all air warriors and the fraternity stand strongly with the bereaved family." 
INDIA JEWELER SNAGS GUINNESS WORLD RECORDS TITLE WITH WATCH DESIGN USING OVER 17K DIAMONDS
Both aircraft have been identified having taken off from Gwalior air base about 30 miles east from where they crashed, the BBC reported. Police found one plane, with a pilot injured but alive in the forests of Padargarh. 
INDIAN COURT APPROVES EXTRADITION REQUEST FOR PRIME SUSPECT IN 2018 AUSTRALIAN BEACH MURDER CASE
The IAF confirmed that an Air Force team reached the second plane and found a hand near one of the crash sites, according to the Hindustan Times.
The Saturday crash is the latest in a number of crashes the IAF has had to deal with in the past few months, according to the BBC.
Five soldiers died in October when their helicopter crashed near the border with China, and Gen. Bipin Rawat, head of India's armed forces, was one of more than a dozen killed in a separate helicopter crash when the vehicle hit a hillside and burst into flames.