Serbia warns 'everyone is preparing for war'
Belgrade is selling ammunition "like hotcakes" but struggling to set some aside for itself, as demand soars due to the conflict in Ukraine Read Full Article at RT.com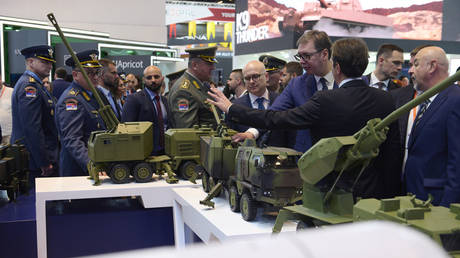 Belgrade says it is profiting from the arms and ammunition race, but is worried about NATO encirclement
Serbia's military industry has ramped up production of weapons and ammunition to keep up with skyrocketing demand driven by the conflict in Ukraine, President Aleksandar Vucic said on Tuesday. Visiting the IDEX weapons fair in UAE, Vucic said the world is preparing for war.
"Everyone needs ammunition. Everyone is buying everything, anything we can make gets sold," Vucic said. "I don't know how some of this stuff hasn't ended up on the battlefields of Ukraine yet."
Demand for things like rockets for 'Grad' multiple launcher systems has gone up by 70%, the Serbian president added, noting that Belgrade is looking to expand some of its ammunition production, since it's all spoken for.
"Ammunition is selling like hotcakes," Vucic said.
He claimed Russia uses up 35,000 rounds per day, and Ukraine about 16,000, which adds up over the course of a year. Serbia is trying to hold back at least some of the hardware for its own needs, Vucic said.
"Our army and our country must come first. At least 30% of everything made in Serbia must stay in Serbia," he told reporters. "We can only sell what we can spare. Everyone wants to fight, everyone is getting ready for war."
Worried about its own neighborhood, Belgrade is also importing whatever it can, including a bid for Rafale fighter jets from France. According to Vucic, a contract with the Emirates for kamikaze drones should be signed later this week.
"We are surrounded by NATO countries. Bosnia-Herzegovina is not [a member], but NATO troops are there too, as well as in part of our own territory, in Kosovo," the Serbian president said.
Asked for comment about the situation in Ukraine, Vucic said he was expecting "great changes on the battlefield" in the next two to three days, which may lead to further Western pressure on Serbia. Vucic has so far resisted US and EU demands to sanction Russia, insisting on Belgrade's military neutrality in the ongoing conflict.
The IDEX 2023 global defense exhibition, held in Abu Dhabi, is one of the largest arms fairs in the world. This week's event is attended by 1,350 vendors from 65 countries. In addition to ammunition, Serbia is advertising its 'Nora' self-propelled howitzer and armored vehicles 'Lazar' and 'Milos.'