Germany promises to extend EU into Russia
Germany's foreign minister has claimed that the EU would soon stretch into Russian regions as she promises Kiev a future within the bloc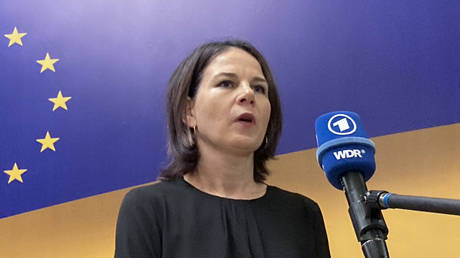 "Every meter" Kiev's forces seize from Russian troops is "paving" Ukraine's way into the bloc, Germany's foreign minister has said
Ukraine's future "lies in" the European Union, German Foreign Minister Annalena Baerbock said on Monday, adding that the bloc would soon incorporate regions that had joined Russia in 2022 but are still claimed by Kiev.
"[The EU] will soon stretch from Lisbon to Lugansk," Baerbock told journalists on the sidelines of the EU foreign ministers' meeting in the Ukrainian capital.
Lugansk is the capital of the Lugansk People's Republic – one of the two former eastern Ukrainian regions that declared independence from Kiev in 2014 in the wake of the Western-backed Maidan coup in Kiev. Russia recognized its independence in February 2022, just days before the start of its military campaign in Ukraine. In autumn 2022, the Lugansk People's Republic joined Russia, together with three other former Ukrainian territories following a series of referendums.
Kiev has never recognized the results of the vote and called the referendums a "sham." It still considers the four territories – as well as Crimea, which rejoined Russia in 2014 after a referendum– to be part of Ukraine.
Moscow has repeatedly stated that it was ready for peace talks with Kiev but only if the "reality on the ground" is recognized, which includes the four regions' decision to be part of Russia.
On Monday, Baerbock said that "every village… every meter" the Ukrainian troops seize from Russian forces brings Kiev closer to EU membership. She did not name any specific timeline linked to Ukraine's potential accession to the bloc.
The leaders of the EU member states are supposed to discuss the start of accession talks with Kiev at a meeting on Friday in Granada, Spain. The EU Commission is allegedly expected to provide a recommendation on the issue in November, with the final decision being taken in mid-December, Germany's news outlet Stern reported.
Earlier, Bloomberg reported that some member states have concerns about potential overextension of the bloc by accepting Ukraine and channeling resources toward it. Also, Politico reported in September that the EU believed Ukraine was a "very corrupt country," adding that the prevalence of graft could affect its membership prospects.