Tech giant could replace workers with AI – Bloomberg
The IBM chief says the company plans to pause hiring for jobs that could be done by artificial intelligence in the coming years ...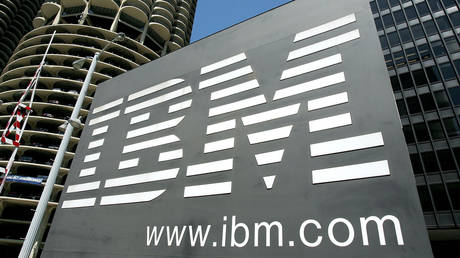 IBM plans to pause hiring for jobs that can be automated in the near future, the company's CEO told the outlet
International Business Machines Corporation (IBM) expects to cut nearly 8,000 jobs in the coming years and replace them with AI, the CEO of the US tech giant, Arvind Krishna, has told Bloomberg.
In an interview published on Tuesday, Krishna said the company plans to slow or completely suspend hiring for back-office functions such as human resources, noting that these non-customer-facing roles currently amount to nearly 26,000 workers.
"I could easily see 30% of that getting replaced by AI and automation over a five-year period," Krishna said, suggesting that AI-induced job cuts could affect some 7,800 workers.
An IBM spokesperson also told the news agency that the company doesn't currently intend to fire any people filling these roles, but pointed out that any jobs vacated by attrition would no longer be refilled.
In an emailed comment to Business Insider, another spokesperson for the tech giant also explained that there is "no blanket hiring 'pause' in place" and that IBM is "being deliberate and thoughtful in our hiring with a focus on revenue-generating roles." The spokesperson added that the company is being "very selective when filling jobs that don't directly touch our clients or technology," noting that IBM is still actively hiring for thousands of positions.
In late March, a report published by the Goldman Sachs Economics Research team warned that recent advancements in generative AI, such as the popular ChatGPT, could very soon cause a "significant disruption" in the labor market.
The researchers suggested that as many 300 million workers worldwide could end up being replaced with AI and that two-thirds of jobs in the US and Europe are exposed to "some degree of AI automation." They also noted that generative AI could be used as a substitute for a quarter of current jobs.
"Despite significant uncertainty around the potential of generative AI, its ability to generate content that is indistinguishable from human-created output and to break down communication barriers between humans and machines reflects a major advancement with potentially large macroeconomic effects," Goldman Sachs said.
Earlier this year, a group of over 1,100 AI researchers, tech luminaries and other futurists, including Tesla CEO Elon Musk and Apple co-founder Steve Wozniak, signed an open letter demanding a six-month moratorium on "giant AI experiments."
The signatories warned that AI systems with "human-competitive intelligence" can pose "profound risks to society and humanity" if they ever manage to escape the understanding and control of their creators.