US considers new type of combat vehicle for Ukraine
The US might decide to give Kiev Bradley armored vehicles, in another step down the slippery slope of confrontation with Russia Read Full Article at RT.com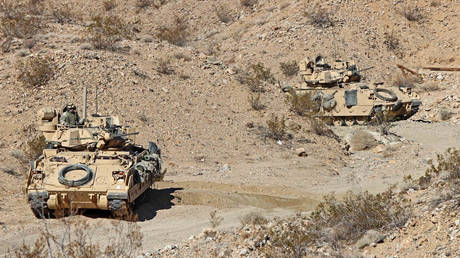 Bradley fighting vehicles are under discussion, according to President Joe Biden
US President Joe Biden seemed to confirm on Wednesday that sending Bradley infantry fighting vehicles to Ukraine is being actively discussed, even as the White House insisted nothing has been decided yet. 
"Yes," Biden said, when asked about the Bradleys during a trip to Kentucky. Bloomberg News interpreted that as confirmation of their December 29 "scoop" that the tracked IFVs were on the table as possible aid to Kiev, which cited unnamed sources.
Meanwhile, National Security Council spokesman John Kirby gave a different sort of answer when pressed on the issue. 
"I'm not going to get ahead of security assistance decisions that haven't been made yet, or what we're going to provide in future packages," he told reporters. Kirby followed that up with the standard talking points that the US was working "in lockstep" with the Ukrainians and trying to fill their "needs and the capabilities and requirements" in real-time.
Read more

France promises old 'light tanks' for Ukraine
On the same day Bloomberg brought up the Bradleys, Politico described how Ukraine has managed to talk the West into handing over more powerful weapons, from handheld anti-tank missiles to HIMARS rocket artillery. Ukrainian Defense Minister Alexey Reznikov had boasted to the outlet in October that he had figured out the "political process" in Washington and was calibrating his requests to ultimately result in "crossing the Rubicon" and receiving tanks.
Biden himself said last month that the West was trying not to get directly involved in a conflict with Russia. However, his government has continued to ramp up weapons deliveries to Kiev, despite Moscow's repeated warnings that doing so was only prolonging the conflict and risking open confrontation.
In early December, Ukraine's top general Valery Zaluzhny told the Economist that he needed 300 more tanks, up to 700 infantry fighting vehicles, and 500 howitzers to conduct offensive operations, more than the British or German armies had themselves.
Read more

Majority of Germans oppose sending tanks to Ukraine – poll
While several NATO countries had also sent Ukraine their Soviet-era T-72 tanks, France on Wednesday announced it would send an unspecified number of AMX-10 RC wheeled light tanks, in another step across Reznikov's metaphorical Rubicon.
The Bradley is an infantry fighting vehicle the US developed in the 1970s in response to the Soviet BMP. It is typically armed with a 25mm autocannon and a TOW anti-tank missile launcher. Mark Cancian of the Center for Strategic and International Studies (CSIS) think tank called it "in effect, a light tank" and "a major increase in ground combat capability" for Ukraine's forces over the M113, the Vietnam-era armored troop carrier the Americans sent them previously.