Former governor joins 2024 US presidential race
Asa Hutchinson wants former President Donald Trump to drop out of the GOP contest due to the indictment against him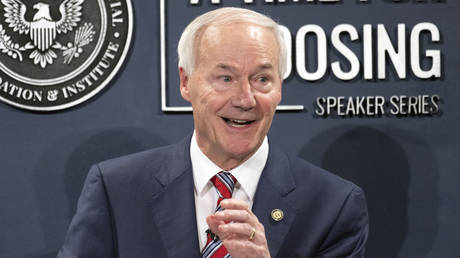 Asa Hutchinson said he thinks Donald Trump should drop out of the contest due to the indictment against him
Former Arkansas Governor Asa Hutchinson has announced that he will run for US president, in an interview on Sunday with ABC. He has also become the first Republican candidate to call for former president and 2024 frontrunner Donald Trump to drop out of the race.
Trump's legal troubles are too distracting for him to effectively run the country, Hutchinson argued, while acknowledging that he would not have brought the still-sealed charges if he had been the prosecutor. Trump should drop out of the race because "he needs to be able to concentrate on the legal issues that he faces," while his fellow Republicans should "let the system work" rather than "undermine everything that is good about America, which is our criminal justice system," by railing against the indictment, he said.
Stressing that he did not want to be perceived as "anti-Trump," the former governor told Karl that while he was "providing an alternative to the former president," he wanted "to be able to speak to Trump voters," as well as elements of the party – particularly Evangelicals – who might feel uncomfortable with Trump's "bad instincts."
"I'm convinced that people want leaders that appeal to the best of America and not simply appeal to our worst instincts," the former Drug Enforcement Administration director said, citing the six months he spent traveling around the US ahead of announcing his candidacy. He plans to make a formal announcement later this month in Bentonville, Arkansas.
Hutchinson, a moderate Republican, declined to lay out any policy points more specific than "consistent conservatism," increasing border security, fixing the economy, and resuming a place of leadership in the world. This latter goal would be difficult if the presidency were "sidetracked for a year and a half" due to legal woes, he added.
Other 2024 challengers have maintained a united front with Trump following his indictment on Thursday. His former vice president Mike Pence called the indictment an "outrage" that would "only further serve to divide our country," while former UN ambassador Nikki Haley suggested the case was "more about revenge than it is justice." Former Trump administration Secretary of State Mike Pompeo scolded Manhattan District Attorney Alvin Bragg for "playing politics" with the legal system, while Florida Governor Ron DeSantis called the indictment "un-American."