Swiss bank shares crater after merger
UBS and Credit Suisse stocks tumbled as a merger deal failed to alleviate fears over the state of the global banking system...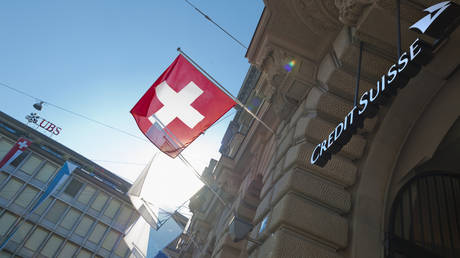 A government rescue plan has failed to calm investors' nerves
The shares of Switzerland's two largest investment banks, UBS and Credit Suisse, tumbled on Monday as their weekend merger failed to calm growing fears over the state of the global banking system.
UBS shares were down 5% at 11:20 GMT, having regained some of their losses after plunging 10% in early trading. Credit Suisse shares collapsed by 60%.
The pan-European Stoxx 600 banking index was down nearly 1.8% around the same time, with the shares of German banking giants Deutsche Bank and Commerzbank dropping over 3%. France's BNP Paribas saw shares fall 3.7%, while major banks such as ING, Societe Generale and Barclays all lost over 2.7%.
UBS agreed to acquire its failing rival for 3 billion Swiss francs ($3.24 billion) in stock on Sunday, in a deal brokered by the Swiss authorities. Following the news, analysts warned that the rescue acquisition threatened to distract UBS management and damage returns, despite a 9 billion-franc government guarantee for potential losses from Credit Suisse assets and 100 billion francs in liquidity from Switzerland's central bank.
"UBS has traditionally operated a high returning, high quality, stable franchise. The acquisition of Credit Suisse throws much of this into question, in our view," analysts at Keefe, Bruyette & Woods told the Financial Times.
While the merger may well turn UBS into the world's largest wealth manager, with more than $5 trillion in total invested assets, there are still concerns about the health of the Credit Suisse assets it has acquired.
"One issue is that the reported price of $3.24 billion equates to approximately 4% of book value, and about 10% of Credit Suisse's market value at the start of the year. This suggests that a substantial part of Credit Suisse's $570 billion assets may be either impaired or perceived as being at risk of becoming impaired. This could set in train renewed jitters about the health of banks," Neil Shearing, group chief economist at Capital Economics, told CNBC.
Investors are also concerned about the write-off of $17 billion worth of Credit Suisse's AT1 bonds, which was part of the merger deal. The move angered many debt-holders, who have been left empty-handed, and revealed yet another banking sector risk.
Experts say investors are concerned about the long-term benefits of the merger and the outlook for other banks in Switzerland, which has previously been viewed as a role model of sound banking.