Nita Mukesh Ambani Cultural Centre opens doors to public with a packed calendar; here's what to expect
Nita Mukesh Ambani Cultural Centre opens doors to public with a packed calendar; here's what to expect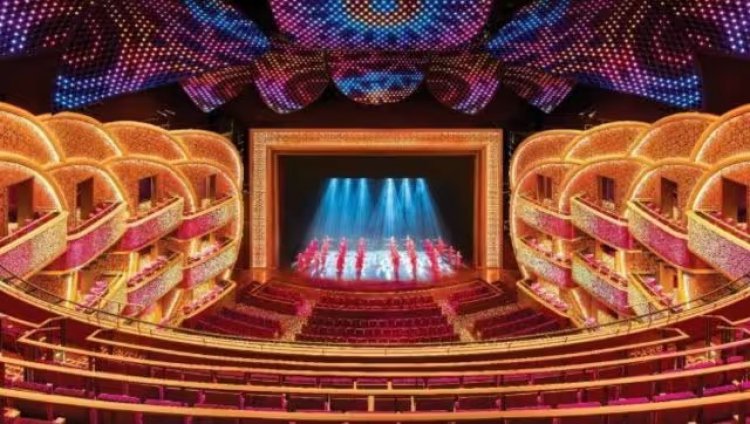 Mumbai: All roads will lead to Jio World Centre at Mumbai's Bandra Kurla Complex from 3 April as the much-awaited Nita Mukesh Ambani Cultural Centre (NMACC) opens doors to the public. The multi-disciplinary art space which aims to bring the best of India and the world boasts three different theatres of varying sizes.
To soothe curiosity of art lovers, NMACC has released its programming calendar a month ahead.
The inauguration event of NMACC on Friday (31 March) saw the diversity of India's cultural traditions and their impact on the world with its specially curated programme 'Swadesh'.
The launch of the cultural centre was announced last year by Isha Ambani, who dedicated it to her mother Nita Ambani.
Meanwhile, the inauguration of the NMACC on Friday evening was a star-studded affair. It saw celebrities Priyanka Chopra, Nick Jonas, Tom Holland, Zendaya, Gigi Hadid, Emma Chamberlain, Deepika Padukone, Ranveer Singh, Alia Bhatt, Aishwarya Rai Bachchan, Kareena Kapoor Khan, Saif Ali Khan, Sidharth Malhotra, Kiara Advani, Sonam Kapoor Ahuja, Aryan Khan, Gauri Khan, Suhana Khan, Mira Kapoor in attendance.
It won't be wrong to say that the NMACC would be one-stop destination for everyone as it intends to showcase every space for performance/ exhibition it has. Without further ado, let's take a look at NMACC programming calendar.
Opening exhibition Sangam/ Confluence
Titled Sangam/ Confluence, the opening exhibition is co-curated by American Jeffrey Deitch and India's leading theorist Ranjit Hoskote.
It will feature the works of Indian artists Bharti Kher, Bhupen Khakhar, Ranjani Shettar, Ratheesh T, and Shantibai and international artists Anselm Kiefer, Cecily Brown, Francesco Clemente, Lynda Benglis, and Raqib Shaw.
This exhibition is accompanied by an insightful audio guide in the voice of Hoskote.
India in Fashion
The second opening exhibition, 'India in Fashion' explores the layered impact that traditional Indian dress, textiles and craft have had on the international fashion sensibility since the 18th century. The first of its kind exhibition in India, the show will also trace the birth and development of the contemporary Indian fashion community.
It's been curated by Hamish Bowles, global editor-at-large for Vogue and editor-in- chief of The World of Interiors. It is designed by Patrick Kinmonth and Rooshad Shroff.
The exhibition will showcase work by renowned Indian designers like Abu Jani Sandeep Khosla, Anamika Khanna, Anita Dongre, Anuradha Vakil, Manish Arora, Manish Malhotra, Rahul Mishra, Ritu Kumar, Sabyasachi Mukherjee, Sanjay Garg, and Tarun Tahiliani. These will be complemented by the works of their global counterparts like Christian Dior, Cristóbal Balenciaga, Elsa Schiaparelli, Gabrielle 'Coco' Chanel, Jean-Philippe Worth, Mainbocher, and Yves Saint Laurent.
The Great Indian Musical: Civilization to Nation
The third and final opening act is a performance titled 'The Great Indian Musical: Civilization to Nation', by Feroz Abbas Khan.
Conceived and directed by the creator of 'Mughal-e-Azam', this marquee production captures the spirit of India, expressed as a nation, through its rich repository of arts.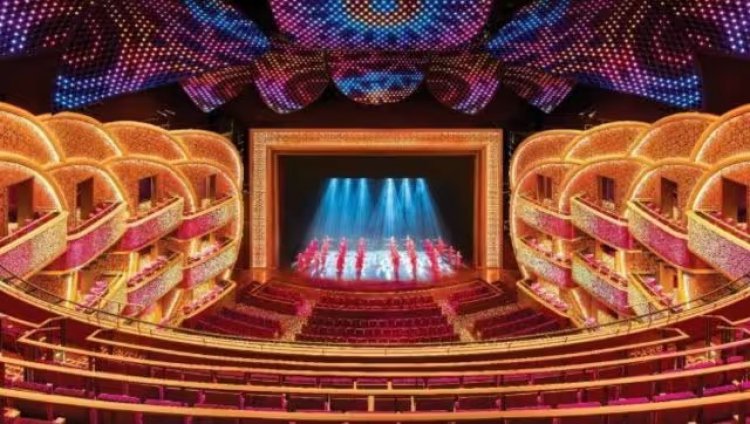 It will feature more than 350 artists including a 55-piece live orchestra led by the Budapest Scoring Orchestra. This production brings together exceptional Indian talent such as Ajay-Atul (music), Vaibhavi Merchant (guest choreographer), Mayuri Upadhya (lead choreographer), Samir & Arsh Tanna (choreographers), Manish Malhotra (costume design) and internationally celebrated, multiple award-winners such as Donald Holder (lighting design), Neil Patel (scenic design), Gareth Owen (sound design) and John Narun (projection design).
This performance will take place at The Grand Theatre, which has a seating capacity of 2,000 people and is the largest of the three theatres at the newly built centre.
Excitement continues after opening
Not all things are reserved for the opening, the programming for the rest of the month is diverse.
At the 250-seater Studio Theatre, is a line-up of stalwarts in music. Mame Khan, renowned Rajasthani folk singer, alongwith his group of Manganiyar musicians will perform Rajasthani and Sufi music on 3 April.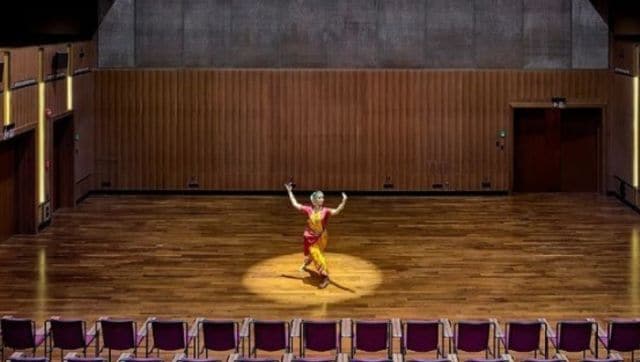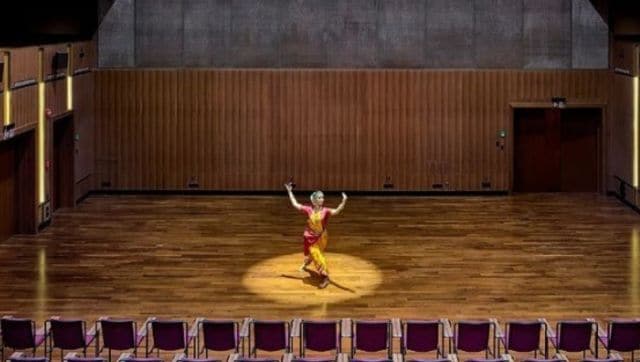 On 4 April a Hindustani classical recital by Kaushiki Chakraborty will be the highlight of the NMACC.
Popular qawwal Ustad Munawwar Masoom, on 5 April, will present an evening of Khusrau's work, which will be followed by Gujarati folk music by Hardik Dave on 6 April and Carnatic classical show by exponent Aruna Sairam on 7 April.
Fusion music by band Samarpan will be the highlight on 8 April and 9 April will see a coming together of Hindustani classical and Carnatic music with "Milap: A Medley" by Purbayan Chatterjee and U. Rajesh.
Stage act
The NMACC calendar for theatre events for the month of April begins with Elephant in the Room, a widely-acclaimed solo performance by Yuki Ellias, scripted by Sneh Sapru.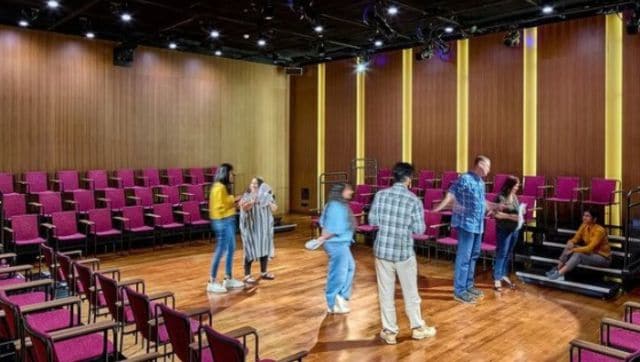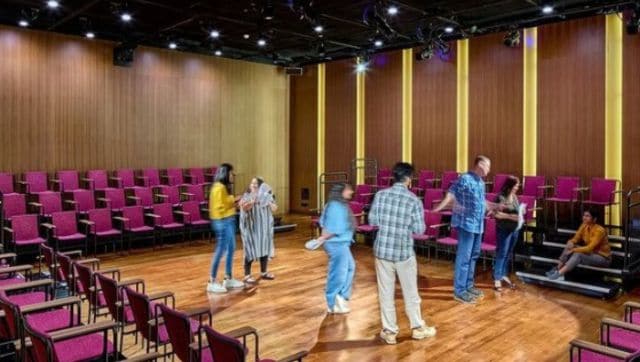 Then there will be performances of Shabana Azmi and Kanwaljit Singh's Kaifi aur Main, Anupam Kher's Kuch Bhi Ho Sakta Hai, and Motley Theatre's Ismat Apa Ke Naam with Naseeruddin Shah, Ratna Pathak Shah, and Heeba Shah in the cast.
A Gujarati play – Mohan No Masalo –with actor Pratik Gandhi in the lead will be staged on 11 April and will tell the story of a young Mohandas Karamchand Gandhi before he became a freedom fighter.
For the young generation
The smallest of the performance spaces at the venue with a 125-seat space, The Cube, is flexible and allows for unconventional work. The line-up over here is dominated by indie, electronic, and fusion music in a bid to attract a younger audience.
On April 3, Sarang Kulkarni and Shikhar Naad Qureshi come together with the former's indigenous electric guitar-meets-sarod in the Zrod, and Sarang of djembe and drums. Singers and songwriters Mali and Kamakshi Khanna come together in a show, and musician Tarun Balani will be seen playing an electronic act accompanied by Parizad D's visual design.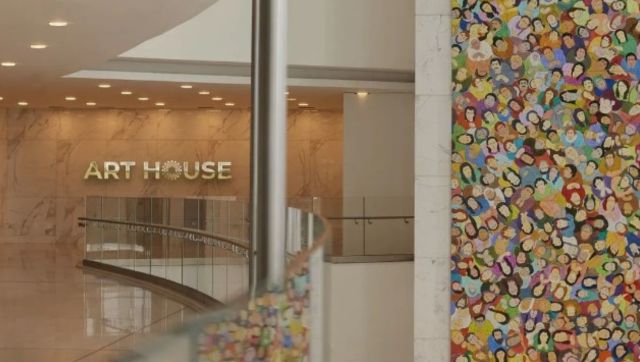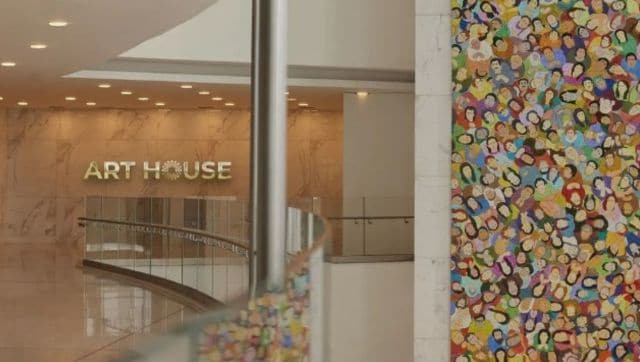 On 11 April, there will be a semi-classical performance by musician Ronkini Gupta and on 12 April, a contemporary dance performance by Diya Naidu titled "Bardo Beings" will be held which will be followed by a Q&A with the team.
Apart from these performances, the calendar for the rest of the month is open for bookings and features works like QTP's Every Brilliant Thing and Tamaasha Theatre's Same Same But Different, among others.
Tickets for NMACC events can be booked at NMACC's official webside – https://nmacc.com/ or www.bookmyshow.com