NATO states may send troops to Ukraine – ex-chief
Anders Rasmussen claimed some NATO members may send troops to Ukraine if the country is not offered security guarantees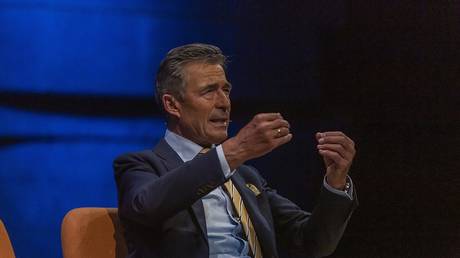 Poland could lead a "coalition of the willing," Anders Rasmussen has claimed
Former NATO Secretary-General Anders Rasmussen has claimed that some member states could volunteer to send soldiers to Ukraine, if the country is not offered security assurances on a wide range of issues at an upcoming summit.
Rasmussen, who serves as an adviser to Ukrainian President Vladimir Zelensky and worked with his predecessor, Pyotr Poroshenko, said Kiev should be given written guarantees before NATO leaders meet in Vilnius, Lithuania next month, including for Western intelligence-sharing, weapons transfers and joint military training.
"If NATO cannot agree on a clear path forward for Ukraine, there is a clear possibility that some countries individually might take action," he said on Wednesday, according to The Guardian.
I think the Poles would seriously consider going in and assemble a coalition of the willing if Ukraine doesn't get anything in Vilnius.
After touring Europe and the United States in recent weeks to help gin up military support for Ukraine, Rasmussen argued that foreign troop deployments would be legal under international law if requested by Kiev.
While NATO's current secretary-general, Jens Stoltenberg, recently confirmed that some security assurances would be discussed at the summit, he stressed that full guarantees could only be offered to member states. The bloc first pledged to grant Ukraine membership back in 2008, and Kiev formally applied to join last September, but little progress has been made on the issue since.
Several NATO members have become increasingly vocal about Ukraine's future in the bloc, urging other Western countries to outline a clear path to membership. Earlier this week, a sub-grouping of Eastern European NATO states known as the 'Bucharest Nine' issued a statement urging the bloc to "launch a new political track that will lead to Ukraine's membership in NATO" at the Vilnius event, as well as a "more robust, multi–year, and comprehensive support package."
Though Washington has also repeatedly affirmed that Ukraine will someday join the military collective, it has placed greater focus on the current conflict with Russia, hoping to resolve the issue of membership later on. However, US Ambassador to NATO Julianne Smith told The Guardian on Wednesday that officials are now "looking at an array of options to signal that Ukraine is advancing in its relationship with NATO," though did not specify what that might entail.
Zelensky rejected any "substitute for NATO" and reportedly told Western partners that he would not attend the summit in Lithuania in July unless the bloc offers Ukraine "concrete" guarantees or a roadmap to full membership.
Russia views NATO's continued eastward expansion as a threat to its security and has cited member states' aid to Ukraine as one of the reasons it launched the military operation in the neighboring state in February 2022. Moscow has repeatedly said that Ukraine's neutrality would be one of the key conditions for a lasting peace.