India surpasses China in terms of population, with 2.9 million more people.
India becomes world's most populous country, has 2.9 million more people than China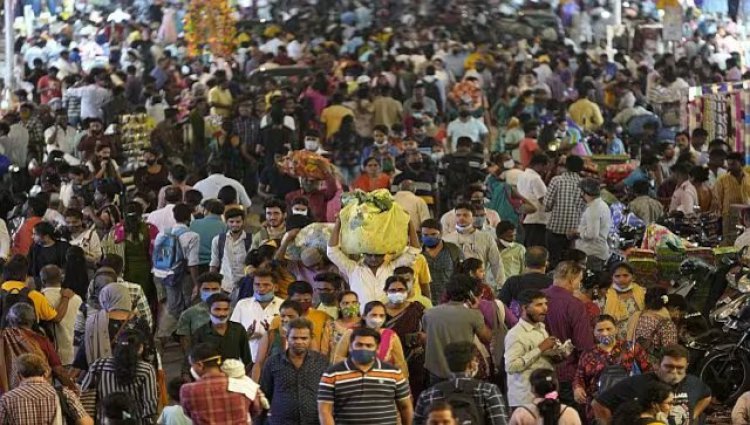 India surpasses China in terms of population
New Delhi: India has passed China to become the world's most populated nation, with 2.9 million more people. India has 1,428.6 million inhabitants, whereas China has 1,425.7 million, according to the UN's world population dashboard.
For the first time since 1960, China's population shrank last year, after which Beijing had to end its strict "one-child policy", imposed in the 1980s. In 2021, it started letting couples have three children. Apart from a plunge in birth rates, the country has been also facing problem of ageing workforce.
The latest figures were given under the category of 'Demographic Indicators' in the UNFPA's 'The State of World Population Report, 2023' released on Wednesday.
It is the first time since 1950 that India's population has overtaken China's.
It was in 1950, the UN began to collect and release population data.
India's population to peak at 165 crore
As per the latest report by UNFPA, 25 per cent of India's population is in the age group of 0-14 years, 18 per cent in the 10 to 19 age group, 26 per cent in the age bracket of 10 to 24 years, 68 per cent in 15 to 64 years age group, and 7 per cent above 65 years.
As per estimates by several agencies, India's population is expected to keep rising for nearly three decades before it peaks at 165 crore and then would start declining.
A report by Hindustan Times quoted Anna Jefferys, media and crisis communications advisor, UNFPA saying, "Though it is unclear exactly when the crossover took place and direct comparisons can be hard due to the slightly different timings of countries' individual data collection."
"What we can say is that China's population reached its peak last year and started to decline and that while India's population is growing, its rate of population growth has been declining since 1980," she added.
As per the UN report, however, also pointed out that China has been better than India in the context of life expectancy, which in the case of women is 82 and 76 that of men. The figures for India are 74 and 71.
World population
According to the report, the global population is expected to hit 8.045 billion by mid-2023.
The report further said the trend of the rising population can be witnessed in Africa too.
Eight nations with more than 10 million people, most of them in Europe, saw their populations shrink over the past decade.
Japan has also witnessed a decline due to its ageing population, losing more than three million inhabitants between 2011 and 2021.
According to the projection by the UN, the population of the entire planet is only expected to decline in the 2090s, after peaking at 10.4 billion.