Explained | Abolish the monarchy: Why Spice Girls, Elton John have turned down Charles' coronation invitation
Explained | Abolish the monarchy: Why Spice Girls, Elton John have turned down Charles' coronation invitation
Jedward have been vocal in recent months after the twins previously called for the monarchy to be abolished just days after Charles became king following Queen Elizabeth II's death. Royal officials planning for the ceremonyhave raised concerns amid claims several musical celebrities have snubbed invitations to perform at King Charles's Coronation celebrations. According to The Daily Mail report, Elton John, Harry Styles and the Spice Girls have turned down to perform at King Charles' Coronation concert on May 7 because of their busy schedules. This looks like a kind of silent protest to abolish the monarchy.
The Spice Girls were seemingly all but confirmed as of last month, but it appears now that dream of reunited girl power is a no go. (So, unfortunately, no chance to recreate the iconic photo above, where Charles looks bewildered and unsure of what's going on.) The Daily Express reports that both Elton John and Harry Styles are on tour and can't make the May 7 date work with their schedules.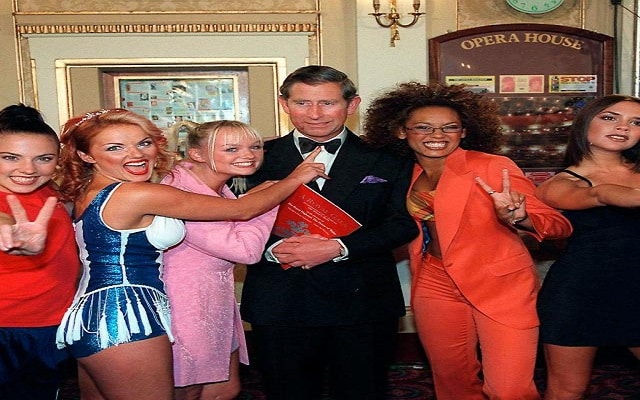 According to The Sun's report, organizers are working against the clock to pull together an exciting line-up but have hit a series of challenges. Elton John was top of Charles list, but, due to his European tour, which sees him performing in Germany the Friday before, then again soon after the Windsor concert, he isn't able to make the dash to the U.K. work. Meanwhile, man-of-the-moment Harry Styles is also tied up with touring and unable to get key band members together, as they'll be on much-needed downtime."
On the other hand, Kylie Minogue has reportedly said yes, as has boy band Take That, who are rumored to be headlining the concert. Take That has long been a royal favorite—remember their performance at 2007's Concert for Diana where the then Kate Middleton sang along to "Back for Good" as she and Prince William's romance was rekindling after a brief split? Yeah, me too.
Harry & Meghan may not attend the coronation
On the Royal British family front, Harry and Meghan are also thinking whether to attend the coronation or not. Prince Harry has "no excuse" for not attending King Charles' coronation on May 6. The comment comes from Royal commentator Angela Mollard during her appearance on The Royal Report. However, the coronation coincides with Harry and Meghan's son Archie's fourth birthday, which could be a legitimate reason for the couple to miss the event. On May 6, 2023, Charles and wife Camilla will be crowned as King and Queen of the United Kingdom at Westminster Abbey.
Rejection is one of Meghan's greatest insecurities and she herself has her own complexes. She should understand that the King Charles coronation event is primarily the king's event. So how does it even matter whether Meghan is given that importance or not. As for Harry, he is a senior member of the royal family and his and Meghan's presence at the coronation is important. But I guess Meghan is embarrassed over the content of Harry's memoir Spare.
Despite multiple claims that Meghan feels excluded from the coronation, a source mentioned to the The Mirror that those allegations—as well as ones surrounding Meghan feeling embarrassed over the contents of Spare, including anecdotes about Harry losing his virginity—are ridiculous and nothing but lies. The question is even if Harry and Meghan goes how are they going to face the royal family of Britain after making so many allegations against them. Th memoir Spare and Netflix's Harry & Meghan reflected badly on them and they lost the respect and dignity from the British public. Meghan Markle just ha one perfect excuse for not attending King Charles' coronation, a royal expert claimed. According to the expert, the excuse will be Prince Harry and Meghan Markle's son Archie's birthday, which falls on the same day as the coronation.
(With added inputs from agencies)