EU sanctions trigger global oil supply warning
The looming EU ban on imports of Russian refined oil products may tighten global supplies...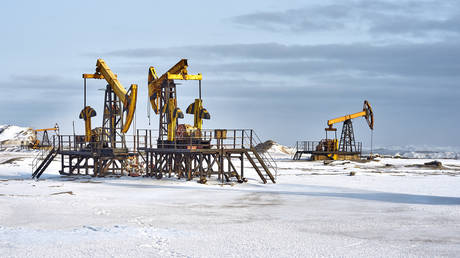 The restrictions could force Moscow to cut crude production, according to experts cited by Reuters
The EU ban on imports of Russian petroleum products could disrupt global trade flows after the measure enters force on February 5, Reuters reported on Thursday, citing analysts.
The bloc's sanctions targeting refined oil products, including diesel and jet fuel, may ultimately impact overall supply due to the risk that the restrictions could force Russia to curb production and refining.
"Barrels will get out and find a market, logistical challenge but not a supply challenge," senior research associate Ian Moore at global brokerage firm Bernstein told the agency.
However, finding alternative buyers for refined products is expected to become a bigger issue for Russia. The nation's discounted volumes of crude oil are currently in strong demand in India and China, two countries that are major exporters of fuel products and have vast refining capacities of their own.
"While the ban would leave Russia with more crude to export, there may not be enough destinations to export the surplus to, and hence Russia may need to cut production by 5%-10%," DBS Bank energy analyst Pei Hwa Ho said, as cited by the news agency.
Last month, Russia reportedly boosted diesel supplies to African and Mediterranean ports in an effort to divert supplies. In December, Russian Deputy Prime Minister Aleksandr Novak said the supplies would be redirected to Asia, Africa and Latin America, adding that Moscow would rather cut oil production than agree to any price caps.
Brussels has proposed a price cap of $100 a barrel on diesel and a $45-per-barrel ceiling on discounted products such as fuel oil. The measures, approved by the G7, the European Commission, and Australia, have yet to be backed by all EU member states, although a deal is expected to be reached on Friday.
The cap follows a similar measure Western countries implemented on December 5 barring the sale, insurance, and transport of Russian seaborne crude unless purchased below a $60 price cap.
For now, shipments of refined products from Russia remain somewhat abundant in Europe. The continent is heavily reliant on diesel imports from the sanctioned country, with traders trying to stock up ahead of the restrictions.