Biden to ask US Congress to fund new Covid vaccine
It is likely everyone will be advised to take the new shot, the US president has said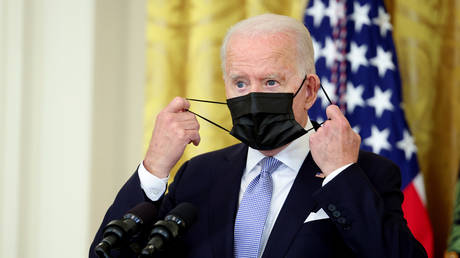 The US president said it was likely everybody would be "recommended" to take the new shot
US President Joe Biden has announced that he plans to request additional funding from Congress to develop a new Covid-19 vaccine, adding that it is likely everybody will be encouraged to take the new shot.
Speaking to reporters on Friday, the president was asked if the White House was planning a response to a reported uptick in Covid cases. The US Center for Disease Control and Prevention (CDC) had previously announced a 21.6% increase in Covid-related hospitalizations and a 21.4% increase in Covid-related deaths in recent weeks. The numbers are, however, still far below the levels seen during the pandemic.
Biden responded by stating that he has already signed off on a proposal to have Congress fund a new vaccine "that is needed, that's necessary, that works."
"It will likely be recommended everybody get it no matter whether they've gotten it before or not," he added.
The president's announcement comes after CNN suggested last week that people should mask up again as the US Center for Disease Control (CDC) and the World Health Organization (WHO) warned of a surge in coronavirus cases and new variants.
"If you're at high risk of serious illness or death from Covid-19, it's time to dust off those N95 masks and place them snugly over your nose and mouth to protect yourself from a recent uptick of the virus," CNN wrote, citing "a growing number of experts."
On August 17, the CDC announced on X, formerly Twitter, that it was tracking a new "highly mutated lineage of the virus that causes Covid-19" called BA.2.86. The agency said it had detected the virus in the US, Denmark, the UK, and Israel.
The WHO confirmed on the same day that the BA.2.86 variant was "under monitoring" due to the large number of mutations it carries, but noted that only a handful of sequences of the variant had been reported so far.
The organization reiterated its calls for better surveillance, sequencing, and reporting of Covid cases, but did not call for any mask mandates or lockdowns.
Nevertheless, some institutions in the US – such as the Morris Brown College in Atlanta, Georgia, several hospitals in New York, and the Lionsgate film studios – have already begun to reinstate mask requirements for anyone on their premises.