Trump trial begins in New York
Former US President Donald Trump has appeared in court to face accusations that he overvalued his properties and businesses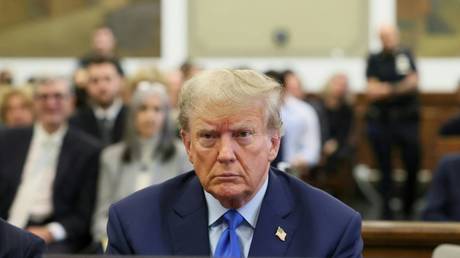 The former president is being sued for fraud, and could lose much of his business empire
Former US President Donald Trump arrived at a Manhattan courthouse on Monday to face allegations that he "persistently" lied about the value of his businesses and properties to secure better loans and insurance premiums. Should he lose the civil case, Trump could face a ban on doing business in New York.
Trump arrived at the court flanked by his Secret Service detail. Speaking to reporters outside the building, he called the lawsuit against him a "witch hunt" and "a disgrace" that was "railroaded and fast-tracked" in order to hamper his 2024 election campaign. "There is no crime," Trump said. "The crime is against me."
Trump and the Trump Organization were sued last September by New York Attorney General Letitia James, who is seeking $250 million in damages and a ban on Trump doing business in the state. James claimed in her suit that Trump committed "staggering" fraud for decades, inflating the value of his properties and companies to banks and insurers.
James was elected to her position in 2018 after promising on the campaign trail to "use every area of the law to investigate President Trump and his business transactions."
Her case was allowed to go ahead by Judge Arthur Engoron, who ruled last week that Trump inflated the value of his assets by between $2.23 and $3.6 billion. Among the properties that Engoron declared overvalued were Trump's Mar-a-Lago estate in Florida, his Trump Tower penthouse, and multiple golf courses and office buildings.
The Trump family have fiercely condemned Engoron's ruling, taking particular issue with his valuation of Mar-a-Lago at $18 million. Trump's financial documents valued the sprawling Palm Beach estate at between $427 million and $612 million, while Trump and his son Eric have both claimed in recent social media posts that the resort is worth more than a billion dollars.
Speaking to the New York Post last week, an anonymous Palm Beach real estate broker said that Mar-a-Lago was worth "around $300 million, minimum." The realtor pointed out that two lots of land near the resort were currently listed for $150 and $200 million, despite being smaller and completely undeveloped. Forbes appraised Mar-a-Lago at approximately $160 million in 2018.
In addition to the civil suit, Trump is facing dozens of criminal charges, stemming from his alleged incitement of the January 6 riot on Capitol Hill and interference with the 2020 election, his alleged misreporting of hush-money payments to porn star Stormy Daniels, and his alleged mishandling of top-secret government documents after leaving the White House. Trump has insisted that these federal and state cases are all part of an overarching plot by President Joe Biden and the Democratic Party to prevent him from returning to the White House.