Hong Kong's top court rules on same-sex unions
Hong Kong's top court has ordered the city's authorities to create a legal framework for homosexual partnerships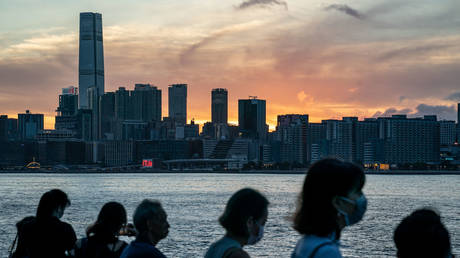 Lawmakers are ordered to create special legislation that would legitimize homosexual couples
Hong Kong's top court has ordered local lawmakers to establish special laws allowing same-sex civil unions, according to a ruling issued on Tuesday. At the same time, the court refused to legalize homosexual marriages or recognize such unions made abroad.
In its ruling, the court stated that the government of the Chinese special administrative region of Hong Kong was "in violation of its positive obligations" under the bill of rights and is obligated to provide a legal framework to recognize same-sex couples.
The court gave lawmakers two years to create such a system, which would also have to be established outside the institution of marriage.
The ruling stems from a lawsuit filed by LGBTQ rights activist Jimmy Sham Tsz-kit in 2018, who argued that Hong Kong should legally recognize his and his husband's marriage conducted in New York five years prior.
The activist, who is currently in prison for violating Hong Kong's national security law for attempting to subvert state power, has argued that refusing to recognize overseas marriages went against Hong Kong's Basic Law and its bill of rights.
Previous courts dismissed all three of Sham's grounds for appeal in 2020 and 2022. On Tuesday, the panel of judges of Hong Kong's Court of Final Appeals was also unanimous in upholding current laws that restrict marriage to heterosexual couples and do not recognize same-sex marriages conducted overseas.
However, the judges ended up split on the issue of same-sex civil unions. Three out of five justices ruled that the need for homosexual couples to have their relationships legally recognized had been "compellingly advocated." They argued that such recognition is "required to meet basic social requirements and to provide them with a sense of legitimacy" and that the absence of legal recognition of such unions is "demeaning to same-sex couples."
While most Asian governments still do not recognize same-sex marriage and, in some cases, outlaw entirely homosexual relationshipsa handful of states have been taking steps to decriminalize such unions and grant them legal status in recent years.
In 2019, China's self-governing island of Taiwan became the first Asian jurisdiction to legalize same-sex marriage fully and this year even passed a bill to allow same-sex couples to adopt children legally.