Germany considers rerunning the Berlin Olympics 100 years after the Nazis
Interior Minister Nancy Faeser wants to host another Berlin Olympics on the 100th anniversary of the Games held by the Nazis Read Full Article at RT.com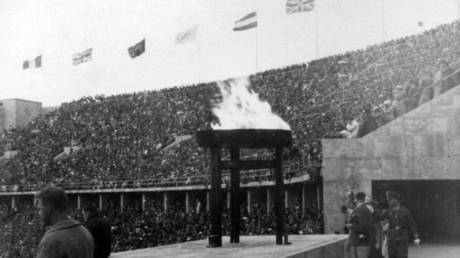 The interior minister says applying to host the event on the centennial of the 1936 Games is "the right step"
Berlin is considering a bid to host the Summer Olympics in 2036. Interior and Sports Minister Nancy Faeser has promoted the idea, saying it would help the nation to rectify its past mistakes.
The idea is "conceivable that you deal with it in a special way at the place where it happened, where exclusion and this terrible disregard for humanity took place," she said on Thursday, when asked whether the German capital could once again host the Olympics 100 years after Adolf Hitler welcomed the international community, except for athletes from the Soviet Union and a handful of other states, to Berlin.
"The 1936 games were terrible. The Nazis organized the games as a means of promoting themselves," Faeser said, referring to the fact that Hitler sought to use the Olympics to improve the image of his regime across the world three years before the start of WWII.
Faeser's predecessor, Horst Seehofer, considered the idea inconceivable. In 2019, he warned that it could be seen in the world as if the "Germans are celebrating the centennial of the Nazi Olympics."
The current interior minister, however, maintained that "it would be the right step" to apply for the Olympics. "I am promoting it very strongly," she said, adding that Germany could "set a good example" by using the games to promote human rights.
While the prospect of the 2036 Berlin Olympics remains distant, Germany seeks to prevent athletes from Russia and Belarus from participating in other international competitions within the country by refusing them visas, Faeser told journalists on Friday. The federal government's initiative was reportedly supported by all regional sports ministers at a conference in Frankfurt.
Faeser said Russia and Belarus should not be allowed to use sporting events as a "stage for their propaganda" amid the conflict in Ukraine, according to German newspaper FAZ.
The International Olympic Committee (IOC) has recommended the visa ban for athletes be lifted, allowing them to compete under a neutral banner. However, a decision on admitting Russian and Belarusian athletes to the 2024 Olympics in Paris and further Games has not yet been made.
In 1936, the Soviet Union did not participate in the Berlin Olympics, which was attended by almost all Western nations, except for Spain, Ireland, and Lithuania.