French DIY giant to exit Russia
ADEO group, parent company of home improvement chain Leroy Merlin, plans to transfer its Russian business to local management Read Full Article at RT.com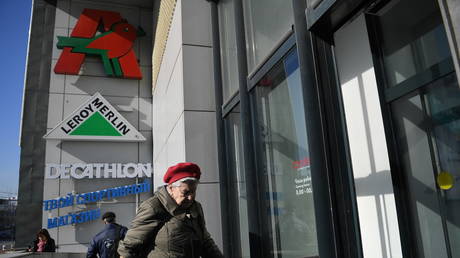 Leroy Merlin's parent company will transfer its business to local management
French home improvement chain Leroy Merlin is transferring its business in Russia to local management, parent company ADEO announced on Friday.
ADEO began preparations for the move several months ago to comply with international regulations, a press release stated. It added that the transaction will be subject to approval by the relevant authorities in Russia.
"After more than 18 years of activity in Russia, transferring control of Leroy Merlin to the local management should preserve the jobs of the 45,000 employees and ensure that the company's activity remains at the service of the inhabitants," the company said.
Russia's Ministry of Industry and Trade described Leroy Merlin's decision as "rational" and promised to provide assistance, RIA Novosti reported.
The Leroy Merlin chain has over 100 stores in more than 60 Russian cities, and the retailer is one of the 10 largest trading companies in the country.
ADEO is part of the French retail giant Association Familiale Mulliez, which also owns the Decathlon sporting goods network and supermarket chain Auchan. Association Familiale Mulliez became a rare example of a major Western company opting to continue business in Russia despite sanctions and pressure from EU authorities to leave, after Moscow launched its military operation in Ukraine.
Auchan, which is said to have over 40,000 employees and more than 300 stores in Russia, is still operating despite sanctions and criticism in the West. Decathlon closed its stores in Russia last June and reports emerged in January that it was looking to sell its business in the country.