US pushes for chip production with India
Washington has been pressing for a partnership with New Delhi in chip manufacturing as the global tech race intensifies...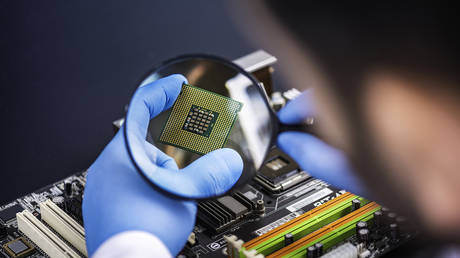 Cooperation could help boost competition against China, according to Washington
Washington and New Delhi will sign a memorandum of understanding on the production of semiconductor chips, US Commerce Secretary Gina Raimondo has revealed.
Raimondo, who is on a four-day trip to India, told reporters on Thursday the sides will map the semiconductor supply chain together and identify opportunities for joint ventures and technology partnerships. The commerce secretary was scheduled to meet India's trade minister on Friday.
"We would like to see India achieve its aspirations to play a larger role [in the electronics supply chain]," Raimondo told journalists ahead of the meeting.
Last month, Raimondo told CNBC the US was considering collaborating with India on certain manufacturing jobs to boost competition against China.
The world's two largest economies, the US and China, have been jostling for domination in key technology areas, including semiconductors. Washington has tightened export controls that prevent Chinese firms from buying certain American components while citing risks to national security.
Meanwhile, Beijing has repeatedly slammed Washington's actions, arguing they have disrupted global supply chains.
This week, media reported that the Netherlands plans to restrict exports of semiconductors to China following pressure from the US to join its policy of curbing Beijing's access to advanced technology.