Oil prices slip as US postpones refilling reserves
Concerns over global oversupply sent crude prices lower on Friday...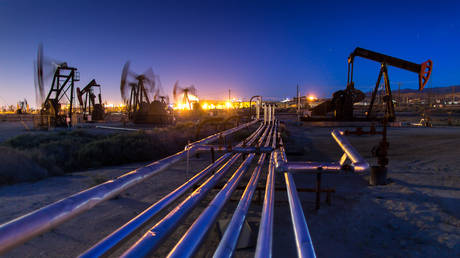 It will be difficult to take advantage of low tariffs this year to add to stockpiles, US energy secretary says
Oil prices slumped on Friday on concerns of oversupply after US Energy Secretary Jennifer Granholm announced that replenishing the country's Strategic Petroleum Reserve (SPR) may take several years.
Major global benchmarks were down more than 3% on Friday, extending losses from the previous day. Brent crude dropped 3.3% to $73.41 a barrel while US West Texas Intermediate (WTI) futures plunged 3.5% to $67.49 a barrel.
"The lack of crude buying for the SPR represents a major blow to the oil-demand outlook," PVM Oil analyst Stephen Brennock said, adding that "it will heap even more pressure on China to do the heavy lifting on the demand side over the coming months."
Earlier this week both benchmarks slumped to their lowest levels in 15 months as investors worried that risks in the global banking sector could trigger a recession that will lead to a decline in oil demand.
"There is a sell-off from the view that the United States will not refill oil reserve even if the WTI prices are at $67-$72 a barrel," general manager of research at Nissan Securities, Hiroyuki Kikukawa, said.
In October, following the sale of 221 million barrels of crude from the SPR, the White House said it would repurchase oil for the reserve when prices were at or below about $67-$72 per barrel. But on Thursday Granholm told lawmakers that it would be difficult to take advantage of the low price this year. The SPR currently holds 372 million barrels of crude oil, down from 638 million at the beginning of 2021, representing the lowest level since December 1983.