EU clearing house profits on frozen Russian assets
Nearly half of Euroclear's net profit last year came from interest earned on blocked Russian funds, according to the company Read Full Article at RT.com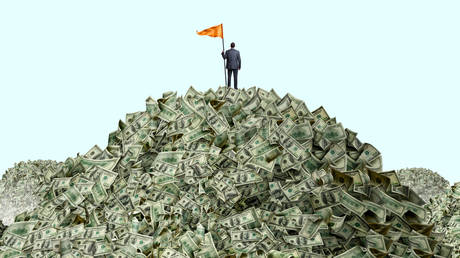 Roughly half of Euroclear's earnings in 2022 came from interest on funds that belong to Russians
A major EU securities transactions company, Euroclear, reported a record-high net profit in its 2022 earnings report on Wednesday.
According to the company, its earnings amounted to €1.2 billion ($1.3 billion), a 162% increase on the previous year. It noted that €597 million ($641 million) or roughly a half of those earnings came from operations with Russian assets that have been frozen under EU sanctions against Moscow.
The Belgium-based firm settles and clears securities trades carried out on European exchanges, and serves as a central securities depository for financial institutions that operate on European markets. The company ceased transactions with Russia's National Settlement Depository (NSD) and blocked NSD accounts within its system following sanctions against the Russian clearing house in mid-2022. The move effectively made Russians unable to access their assets held within Euroclear.
Throughout the year, dividends, coupon payments and redemptions on securities that belong to Russians have been piling up on Euroclear accounts. The bank estimated that as of the end of 2022, its balance sheet increased by €99 billion compared to 2021, to €124 billion. The funds, in accordance with the company's risk strategy, were invested, bringing in a cumulative income of €821 million.
"Cash balances increased materially as a consequence of the international sanctions on Russia... The international sanctions and Russian countermeasures resulted in a loss of activities from sanctioned clients and Russian securities which impacted business income," Euroclear said, noting, however, that the accumulated interest income "more than made up" for any losses.
"Future earnings linked to the sanctions will continue to depend on the prevailing interest rate environment and the evolution of the sanctions. The Board expects interest income to continue to grow as blocked payments and redemptions continue to accumulate, albeit at a slower pace during 2023," the company predicted.
Russian investors first faced problems with conducting transactions and receiving payments on foreign securities in early March last year, even before the NSD was sanctioned, as foreign clearing houses halted transfers while waiting for clarifications on anti-Russia restrictions from authorities.
The NSD has been trying for months to obtain permits for the release of Russian funds from the clearing systems. In December, regulators in Belgium and Luxembourg issued such permits, after which the NSD and a number of other Russian brokers applied for the release of funds.
However, experts say the permits do not guarantee Russian investors will see their money in the near future, as there is uncertainty around the procedure of their withdrawal. Also, there have been calls within the EU and the broader West to seize the frozen Russian funds and use them for the reconstruction of Ukraine.