English football set to introduce ground-breaking Dementia Care Fund
After years of political wrangling, England's football authorities are close to agreeing a deal for a new Dementia Care Fund to help former players, Sky Sports News can reveal. Both the PFA and its former charity, the Players Foundation say that if they were to offer to pay for residential care for all those ex-players …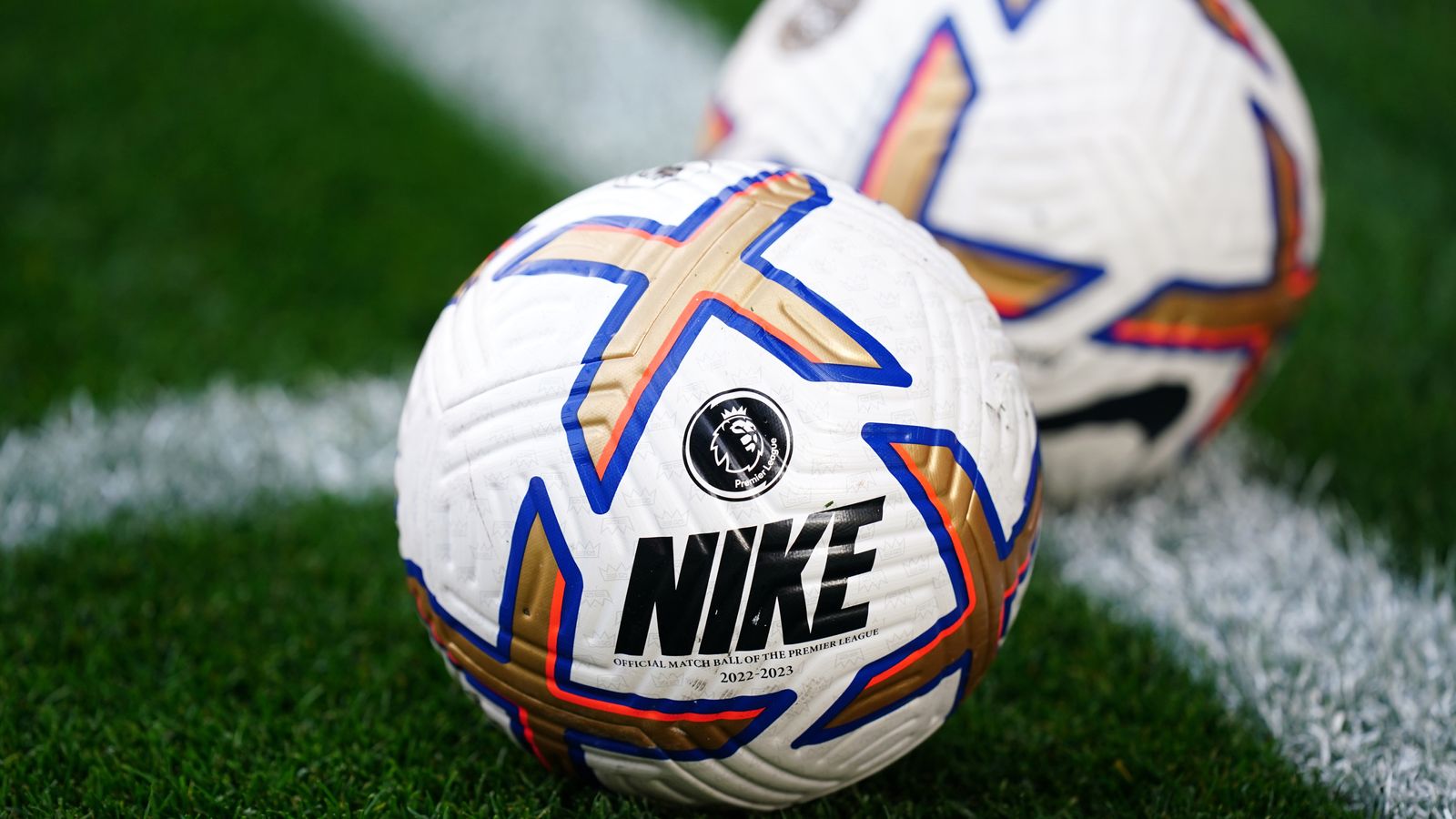 After years of political wrangling, England's football authorities are close to agreeing a deal for a new Dementia Care Fund to help former players, Sky Sports News can reveal.
Both the PFA and its former charity, the Players Foundation say that if they were to offer to pay for residential care for all those ex-players with dementia, they would quickly be left bankrupt. It's believed there are around 200 former players with some form of neurodegenerative disease.
High-level nursing care in a residential unit typically costs between £60,000-£80,000 per year.
As a result, the PFA decided to initiate discussions with other football leaders, with the aim of creating a ring-fenced pool of money to help those in need. That now looks like it will happen before the summer.
There are currently over 55,000 former professional footballers in England across the men's and women's game, with fears that the number of cases of dementia could rise significantly in the future.
One official has told Sky Sports News: "This is the single biggest issue for football going forward. It is already a financial crisis. It could become a medical one too, if urgent action isn't taken."
In 2002, a coroner concluded that Jeff Astle's brain damage was an "industrial disease" caused by repeated heading of the ball. His daughter, Dawn, has been campaigning for greater financial help for more than two decades, and has led the PFA's push for a dementia care fund.
In 2019, Dr Willie Stewart published research that was funded by the PFA. It showed footballers were three and a half times more likely to develop dementia and other serious neuro-degenerative diseases.
Last month, a Swedish study found that footballers were 50 per cent more likely to develop dementia in later life compared with people who never played the game.
Now, after more than 12 months of sensitive negotiations, stakeholders including the Premier League, EFL, PFA and FA are finalising the details of a ground-breaking financial agreement which could be confirmed publicly within two months.
None of those organisations has been prepared to comment on the matter, saying the issues are too sensitive, and too important, to talk about until final agreement is reached.
But a special investigation by Sky Sports News has discovered that financial packages, which have been provided in the past to help with specialist care, are no longer available to families, as the PFA and the Players Foundation disagree over who is responsible for their care.
Sky Sports News has been told the Players Foundation – the former charitable arm of the PFA – is not currently involved in the talks about a new care fund.
Both the PFA and Players Foundation are undergoing significant re-organisations after they were forced to split by the Charities Commission following a lengthy investigation which began in 2019. That investigation into financial irregularities is still ongoing.
The Players Foundation has provided 333 grants to 77 former players with dementia since 2020. But, crucially, those payments have not covered any residential care.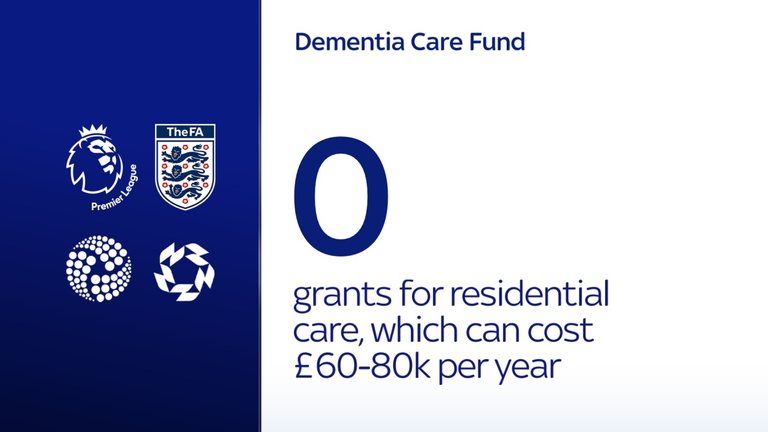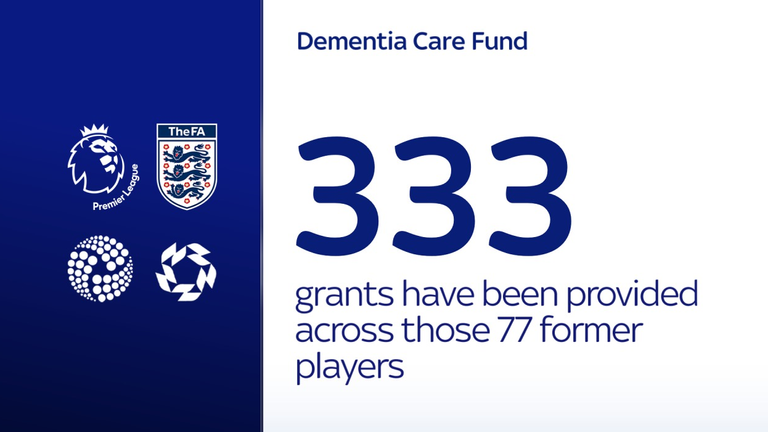 Once it is decided that a former player requires residential care, that means admission to a very expensive specialist, secure high-dependency unit with 24-hour nursing care.
Currently, any help that is provided is means-tested by the Players Foundation, so that anyone with more than £23k in assets or savings (not including a family home) is ineligible for financial support.
Sky Sports News has learned many of the key features of the new Dementia Care Fund, which will be set up following lengthy talks between the Premier League, FA, EFL and PFA:
Crucially, it will offer support for residential care for those most in need.
It will have charitable status.
The fund will be administered by around 12 medical experts, who will be independent of the football authorities, and will assess cases in terms of medical need. One source has told us that their role will "not be bureaucratic – it will be facilitative."
The announcement of a deal could happen within two months, but the charity will take much longer to set up, because of the strict charitable rules.
As a result, talks are ongoing about an "interim" fund to get financial help to families more quickly.
As things stand, the Players Foundation (the PFA's former charitable arm) are not part of the current discussions, but it is hoped some of their £58m of assets may be assimilated into the new fund in the future.
The PFA will still have a crucial role to play in the emotional and practical support of former players with neuro-degenerative diseases.
One official, who didn't want to be named, told Sky Sports News: "A deal is close.
"Our focus has been the care fund, which will be a huge relief to so many, because the suffering of families is so great, and weighs very heavily on us all in the game.
"But even when that is set up and running, that won't be our best achievement – our greatest achievement will be if far fewer footballers in the future develop dementia. And that's where education, changes to training, better use of technology etc comes in."
'There was torment in his eyes' – Gates family share their story
*Readers may find some of the below stories upsetting.
Dr Judith Gates set up the campaign group Head for Change three years ago, after her husband – former Middlesbrough player Bill Gates – was diagnosed with a neuro-degenerative condition.
Since then, as well as lobbying football for better funding for families affected, the group has pushed for greater research into the possible consequences of heading the ball, greater education to reduce risk, and offered support to those in need.
She shared some of her own stories – and those of the members she's worked to help – with Sky Sports News senior reporter Rob Dorsett.
"Bill is in a peaceful place just now," Judith explains. "He is in a very good care home, and is stable. But that hasn't been the journey."
Judith's son, Nick Gates, adds: "The worst time for me was when he had to obsessively exercise. Because he couldn't remember where he lived, I had to go with him.
"We would walk and walk for hours every day. There was torment in his eyes that something was telling him to keep moving, but he was 75 and his body wasn't up for doing what his mind was telling him to.
"That's when I saw him at his most tormented. He couldn't sit, he couldn't rest. We'd get back from a two-hour walk he'd have 30 seconds rest and he needed to go again."
"I remember the day when his body was all twisted because he'd walked his body to exhaustion and we couldn't stop him," says Judith.
"I also remember him obsessively trying to take contact lenses out of his eyes that weren't there. The big ones that he used to wear in the sixties, which had to be so big to stop them – ironically – falling out when he headed the ball. He hasn't worn them for years.
"He went through a phase where he was literally scratching at his eye balls to try to take them out, and I had to hold his hands, and tell him he didn't have any contact lenses in."
'Cost of residential care the elephant in the room'
As part of Head for Change, Judith set up "Extra Time" – a special meeting for the families of sufferers to talk about their feelings, and share experiences.
Many of those experiences are harrowing. Judith explains the wives and families of ex-players with dementia often don't want to tell their stories publicly, as they battle to retain their husband's dignity.
But she got special permission to share some of their stories with Sky Sports News.
"Just this week," she says, "a woman had to ring the police and have her husband sectioned. She locked herself in a room, and he broke down the door to try to attack her.
"He grabbed the hood of her coat, and after she escaped downstairs, if the neighbours hadn't heard the noise and come to rescue her, something worse would have happened. She is heartbroken, not just at what she experienced but what it means for her husband.
"Another wife described herself to me this week as shattered, battered and bruised. Her mild-mannered, professional husband had head-butted her.
"She'd been trying to change him, and he didn't want to change. She said I was frightened for my life.
"Another family had to take their husband and father to A&E because he was kicking them, breaking down doors, tearing off child locks. He was running away and they couldn't catch him.
"The doctors had to restrain him because he wouldn't take his meds. He's since been admitted to a psych ward, because he would stay awake for 24hrs at a time. There is no rest for the families in these cases. They always have to be hyper-vigilant.
"He is now in a hospice, and the woman shared with me an image now of him curled up, sleeping, with his pet dog sleeping in the bend of his knee.
"This is the disease, this is the brutal disease and when it's preventable, it's a tragedy."
All of those women described by Judith are now safe, with the men in secure care.
Judith says above and beyond the medical and psychological needs of the footballers and their families – there is an over-riding financial need. That is why she says a Dementia Care Fund is essential.
"Every single family I've spoken to says the elephant in the room is the cost of the residential care.
"That is with them from the day they receive the diagnosis. How are we going to manage the tears, how are we going to be able to manage the sadness, the practicalities, how are we going to be able to manage to change someone who is doubly incontinent and resists me?
"But underneath it is also – how are we going to keep our home, how are we going to pay for all of this? And that hangs over their heads every minute of every day."