Great hammerhead shark found dead on Alabama beach was 40 pups pregnant and very endangered.
An endangered great hammerhead shark and her 40 pups washed ashore on a Alabama beach last week. The 14-foot-long female is suspected to have been the result of fishing mortality.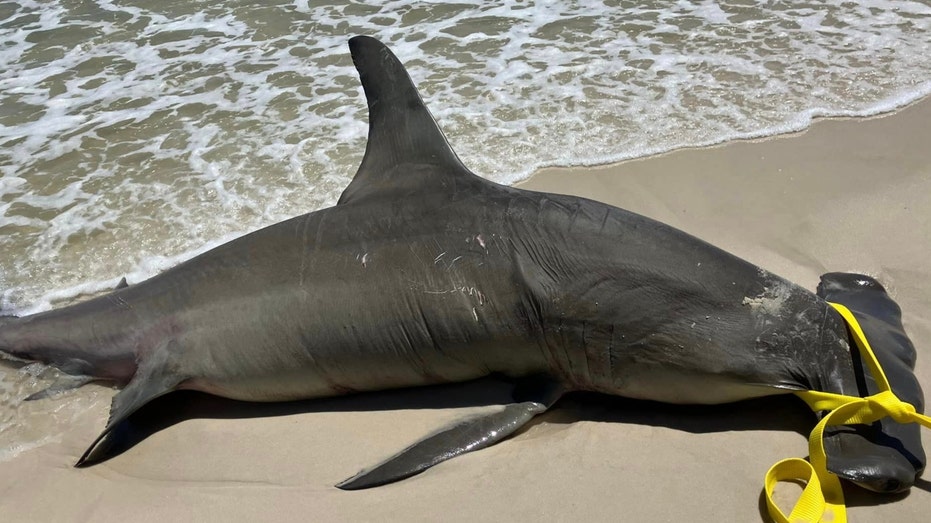 A critically endangered great hammerhead shark washed ashore an Alabama beach a week ago, with a subsequent investigation finding the shark was pregnant with 40 pups.
The City of Orange Beach Coastal Resources Department said in a Facebook post that the 14-foot-long female was pulled to shore by a few individuals and retrieved by department staff.
"While it was very sad that it passed, we were excited about the rare opportunity of seeing a great hammerhead in such good condition," it said.
Citing a necropsy from Mississippi State University's Marine Fisheries Ecology group, the department said that the data collected will be helpful in learning about physiological potential to bear offspring in great hammerhead sharks.
The group, in its own Facebook post two days later, said that the cause of death is impossible to determine with absolute certainty and that all of the brood were dead when they washed up on the beach.
"Consequently, we suspect death was the result of fishing mortality," it wrote, adding that examinations found no signs of trauma to the mother shark's organs or abnormal lesions or unusual parasites.
"We know that great hammerheads are especially prone to the physiological effects of capture stress, more so than most other shark species. Pregnancy compounds this physiological stress," it said.
The deceased pups will be preserved and donated to local classrooms for educational purposes.
"The samples we took provide an opportunity to enhance our knowledge of great hammerheads in the northern Gulf of Mexico, which is critical for their continued conservation," the group concluded.
Great hammerheads are listed as critically endangered, according to the International Union for Conservation of Nature Red List of Threatened Species.
Great hammerhead sharks have never been implicated in a fatal attack, according to the university.
Off the Alabama coast, they patrol waters to hunt stingrays.