US teachers 'subversively' transitioning kids – Daily Mail
A group of teachers admitted to keeping their students' transgender identities secret from parents Read Full Article at RT.com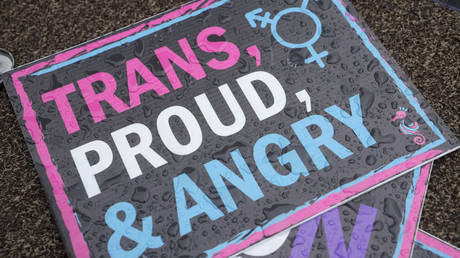 Dozens of educators admitted to helping children switch genders without their parents' knowledge
A group of teachers from the American midwest admitted to flouting the law in a bid to help their students change their gender, the Daily Mail reported on Monday. Their efforts are reportedly funded by the administration of President Joe Biden, which recently moved to quash state-level bans on underage sex changes.
Daily Mail reporters gained access to a recent online conference organized by the Midwest and Plains Equity Assistance Center (MAP). Attended by 30 teachers from 13 states – including Michigan, Missouri, Ohio, and Wisconsin, the conference was called to address a slew of Republican-authored bills enforcing single-sex bathrooms, restricting transgender participation in girls' sports, and requiring teachers to inform parents if their children identify as a different gender in school.
Conservative parents have sued schools for keeping their children's transgender identities a secret, and have angrily demanded that sexually explicit books be removed from classrooms.
Read more

Russia moves to ban sex changes
During the meeting, 'Diversity, Equity, and Inclusion Coordinator' Kimberly Martin explained that her Michigan school district is "working with our record-keeping system so that certain screens can't be seen by the parents…if there's a nickname in there we're trying to hide." 
Jennifer Haglund, a counselor for Ames Community Schools in Iowa, which serves 5,000 K-12 Iowa students,bragged about taking part in pro-trans protest marches, and said that her "own code of ethics…doesn't always go along with the law." 
"The stakes are very high for trans youth," Shea Martin, a self-described "Black, queer, gender-expansive scholar-teacher" said in the meeting. "I think that requires working subversively and quietly sometimes to make sure that trans kids have what they need." Martin added that she discusses topics of "sexuality" with elementary school students, who can be as young as five years old.
MAP announced last November that it had secured $8.5 million in funding from the Department of Education, and millions more elsewhere, the Daily Mail reported. The department did not respond to a request for comment. 
Read more

White House bans trans influencer for 'disrespectful' nudity
Biden claimed earlier this month that Republican transgender bills "attack the most basic values and freedoms we have as Americans," telling a crowd of gay and transgender celebrities at the White House that "my entire administration has your back."
To that end, Biden's Justice Department sued the state of Tennessee in April over its ban on puberty blockers, hormone treatment, and surgical sex changes on minors. The department wrote to all state attorneys general last March warning that they would be prosecuted if they tried to implement similar bans.
On Tuesday, a district court judge in Arkansas blocked a state law prohibiting underage sex changes, arguing that such procedures improve "the mental health and well-being" of children. Arkansas was the first state to implement such a ban, and the judge's decision will likely influence future rulings on the issue.