Media: US spies on the German Defence Ministry
The US has continued to spy on Germany for a decade after the 2013 NSA scandal, the German media has reported, citing the new Pentagon leaks Read Full Article at RT.com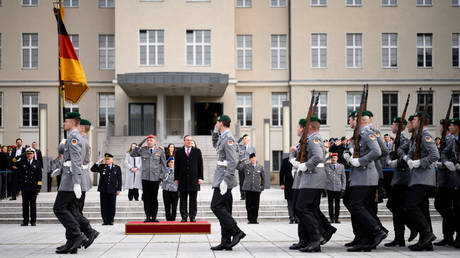 Washington has reportedly been surveilling Berlin through electronic means
American spies have continued to eavesdrop on the German military even a decade after the 2013 NSA scandal, the newspaper Die Zeit and public broadcaster ARD reported on Thursday. The outlets cited a fresh 'Pentagon leaks' document detailing information that US intelligence had gathered about talks between the German and Chinese militaries.
The document in question describes a February meeting between German Defense Ministry officials and a Chinese People's Liberation Army delegation. The Germans demurred on deeper cooperation with their Chinese counterparts and called on Beijing to become more "transparent," the paper seen by the media outlets states.
Die Zeit and ARD said they considered the leaked document to be "authentic" even though Washington did not officially confirm it. The outlets also said that the German authorities had officially informed the US embassy about the meeting described in the document.
According to Die Zeit and ARD, the leaked document was also shown to the German government and is now "occupying [the attention] of the German security authorities." However, it is not the contents of the document but the way the information was obtained that provoked Berlin's concerns, the outlets added.
The 'top secret' document bears a 'signal intelligence' mark, which indicates that the information contained therein was obtained through electronic surveillance. This would potentially mean that US intelligence had either intercepted German Defense Ministry's emails or had hacked IT systems, the German media reported.
The German Defense Ministry denied having seen any evidence of US espionage in the leaked documents. "The published document in question is clearly a partial transcript of a round of talks that took place in the US embassy in Berlin," the ministry's spokesperson told Germany's dpa news agency on Thursday, adding that the US diplomats had invited German Defense Ministry officials to a confidential discussion of the situation in the Indo-Pacific region.
"Since this information was shared by us directly with the US, suspicions of espionage are unfounded in this regard," the spokesperson added. Some German media, including t-online, noted, however, that the ministry's comment does not explain the 'signal intelligence' mark on the document.
This is not the first time Washington has been accused of spying on its allies. Such activities first came to light in 2013, thanks in large part to the efforts of NSA whistleblower Edward Snowden. Among other things, documents he leaked revealed that then-German Chancellor Angela Merkel's private cell phone had been surveilled.
According to Der Spiegel, Germany's domestic intelligence agency (BfV) and the military counterintelligence service (MAD) have for some time been investigating whether the US did in fact spy on the Defense Ministry in February 2023. However, instead of making public accusations, German intelligence officials decided instead to discreetly approach their American counterparts for clarification.