US says Ukraine may have to negotiate for territory
US Secretary of State Antony Blinken hinted that Ukraine may have to enter into talks with Russia to settle questions about its border Read Full Article at RT.com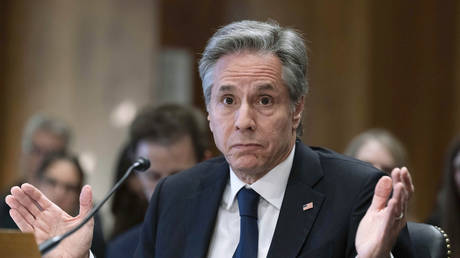 Washington has generally rejected diplomacy with Moscow in favor of military aid to Kiev since fighting erupted last year
US Secretary of State Antony Blinken has suggested that Ukraine may have to enter into talks with Russia before it can resolve questions regarding its borders, but insisted such decisions must be left to Kiev.
During a congressional hearing on Thursday, America's top diplomat was asked whether the White House supported Ukrainian President Vladimir Zelensky in his vows to retake the Crimean Peninsula by force, offering only an indirect answer.
"I think there's going to be territory in Ukraine that the Ukrainians are determined to fight for on the ground; there may be territory that they decide that they'll have to try to get back in other ways," Blinken said, apparently referring to diplomatic efforts.
However, he went on to argue that "these have to be Ukrainian decisions about what they want their future to be and how that lands in terms of the sovereignty, the territorial integrity, the independence of the country," but added that Washington would like to avoid a situation which "simply invites the Russians to reset, rearm and then re-attack" following any potential negotiations.
The question to Blinken was posed by Republican Rep. Chris Stewart, who voiced concerns that the United States would be "asking for a world of hurt" if it attempted to ensure "no Russian presence at all in Crimea," as has been repeatedly proposed by Zelensky.
The region has been in Moscow's possession since 2014, when its majority Russian-speaking residents voted to reunify with the Russian Federation soon after Ukraine's Euromaidan coup. It was previously part of Russia's territory and was only transferred to Kiev's administrative control by Soviet authorities in 1954, however.
Crimea has played a role in the current conflict in Ukraine, serving as a staging area for Russian forces focused on the country's south. Earlier this week, Russian naval vessels in the area came under drone attack, but sustained no major damage after the UAVs were repelled by air defenses, according to Sevastopol Governor Mikhail Razvozhayev. The city has hosted the main base for Moscow's Black Sea fleet since its founding in 1783.
While US officials have appeared to back Zelensky's previous vows to seize the peninsula and have largely eschewed any diplomacy with Russia, Blinken's comments on Thursday could indicate a softening of that stance. Moscow, however, has stated that Crimea will not be a part of any future negotiations, insisting that the region would remain under its control for good.