UK issues apology to LGBTQ veterans
Rishi Sunak has apologized to LGBTQ military members after a report detailed a campaign of bullying and harassment in the UK's armed forces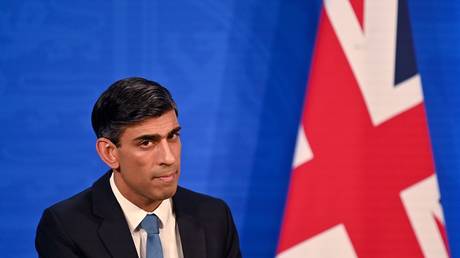 The statement followed a report on the abuse and bullying of gay military members
British Prime Minister Rishi Sunak has issued a formal apology to LGBTQ members of the UK military following the publication of a damning report detailing how some members of the armed forces were subjected to sexual abuse and homophobic bullying.
The long-awaited LGBT Veterans Independent Review, which garnered evidence from more than 1,000 military members and veterans, detailed numerous instances of people being removed from the military due to their sexual identities. Many were, the report said, forced to confront "the most horrific sexual abuse and violence, homophobic bullying and harassment, all while bravely serving this country" during their military careers.
"On behalf of the British state, I apologize," Sunak told the UK Parliament on Wednesday. "I hope all those affected will be able to feel proud parts of the veteran community that has done so much to keep this country safe." Sunak added that some of the treatment of LGBTQ military personnel was "an appalling failure of the British state" and that it was "decades behind the law of this land."
The report also made 49 recommendations to the government, including the introduction of an "appropriate financial reward" for veterans affected by the historic abuse. Sunak did not respond directly to the recommendations but said meetings with government colleagues had been scheduled to discuss the issue.
Homosexuality was decriminalized in the UK in 1967. However, the ban continued in its armed forces until January 2000. According to the report, the UK's Ministry of Defence said the purpose of this policy was to ensure the "maintenance of operational effectiveness and efficiency." However, the report said the military's stance on LGBTQ members amounted to an "incomprehensible policy of homophobic bigotry."
The publication of the report comes more than 20 years after the European Court of Human Rights ruled in favor of five UK military members who were fired due to being gay, leading to the overturning of the ban.
The LGBTQ charity Fighting With Pride has estimated that between 2,000 and 5,000 people were severely impacted by the UK armed forces' anti-gay policies. Some, it said, had their service medals withdrawn, and others were still living with criminal records linked to their sexual identities.
The charity has also demanded that any such criminal records be expunged and that compensation of £100,000 ($130,000) be paid out to the people affected.