Turkish prices cooling  
Türkiye's annual inflation in June slowed to its lowest rate for the first time in over a year, according to official statistics   Read Full Article at RT.com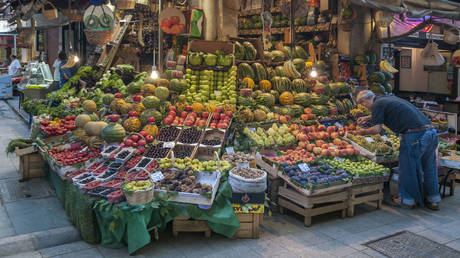 Inflation slowed to 38.2% in June, despite a plunging lira, data has shown  
Türkiye's annual inflation in June slowed to its lowest rate for the first time in over a year, data released by the official statistics service TUIK showed on Wednesday.
Annual consumer-price growth eased to 38.2% last month from 39.59% posted in May, coming in lower than expected.
The country's monthly inflation rate for June stood at 3.92% and was also below forecasts, despite the continued collapse of its currency, the lira.
The largest gains in annual terms were attributed to hotel and restaurant prices, which jumped 67.2%, while prices for food and non-alcoholic drinks surged by almost 54%. Tobacco and alcoholic beverage costs soared by 40%, clothing rose 21%, transport was 20.7% up, and residential estate gained 14.7%, according to the latest data.
READ MORE: Türkiye inches closer to 'rational' economic policies
Although inflation has declined somewhat, there's still "little reason" for optimism. "The lira freefall starts to take its toll once again as it reignites cost pressures," Conotoxia's Market Analyst Bartosz Sawicki told CNBC.
The risk of another inflation spiral adds urgency for Türkiye's Finance Ministry and the Central bank, economists say.
Meanwhile, policymakers in Ankara have recently pledged to return to a more conventional approach in monetary policy, as they began to remove support for the lira and raised interest rates for the first time in over two years.
For more stories on economy & finance visit RT's business section