Telegraph hints at reason Biden snubbed UK for NATO leadership
The US blocked Ben Wallace's bid to become the next chief of the bloc over the UK's push to help Kiev with F-16s, the outlet has reported Read Full Article at RT.com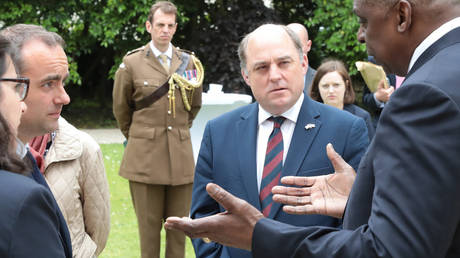 Washington was reportedly dismayed by Britain's push to train Ukrainian pilots on F-16s without US approval
The US has refused to back UK Defence Secretary Ben Wallace's bid to become the next NATO Secretary General over his ambitious plans for military support of Ukraine in its conflict with Russia, the Daily Telegraph reported on Wednesday, citing sources.
In recent weeks, Wallace, a staunch anti-Russia hawk who was spearheading the push to arm Kiev with heavy tanks and long-range missiles, was widely regarded as the frontrunner to succeed incumbent NATO chief Jens Stoltenberg.
However, according to the Telegraph, Washington was "dismayed" when Britain, along with the Netherlands, agreed last month to form an 'international coalition' to help Kiev procure US-made F-16s and train Ukrainian pilots to fly the 4th generation jets, without asking for Washington's approval first.
A Telegraph source claimed that the move "ended any remaining hope" that the US would back Wallace's candidacy. Several days after the joint announcement, the US agreed to allow its Western allies to supply Ukraine with F-16 jets Kiev had requested for months as well as signaled that it would take part in training efforts. However, Western officials have said that Ukraine should not hope to get the jets any time soon.
Read more

US wants EU Commission chief to head NATO – Telegraph
According to an earlier Daily Mail report, Biden, who has Irish roots, may have also rejected Wallace's candidacy as the minister had served in the British army during the Troubles, the period of sectarian violence in Northern Ireland between the 1960s and late 1990.
Another Daily Telegraph report also suggested that Wallace's bid was blocked by several European leaders who pushed for the next NATO chief to come from a EU nation.
Publicly, Biden said that Wallace would make a "very qualified" leader of the bloc, but stopped short of endorsing his candidacy. Wallace, who had previously spoken in length about his vision for the bloc's future, signaled last month that he had no plans to contend for the job.
On Tuesday, the Daily Telegraph claimed, citing sources, that Biden would prefer European Commission President Ursula von der Leyen to be the next NATO chief despite the EU official earlier saying that she was not interested.
Earlier this week, the bloc's members agreed to extend the tenure of Stoltenberg for one year. The secretary general has been heading the US-led military alliance since 2014, with his term having been extended three other times.