North Korea orders new ICBM and larger nuclear arsenal
North Korean leader Kim Jong-un has sanctioned the development of a new ICBM and larger nuclear arsenal, according to state media Read Full Article at RT.com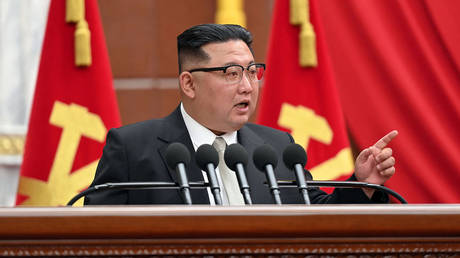 Pyongyang needs "overwhelming military power" to protect its sovereignty, Kim Jong-un says
North Korean leader Kim Jong-un has called for the country to develop a new intercontinental ballistic missile (ICBM) and boost its nuclear arsenal amid rising tensions on the Korean Peninsula, state-run media reported.
Pyongyang requires "overwhelming military power" to defend itself as Washington and "our undoubted enemy" Seoul try to "isolate and stifle" North Korea with US nuclear assets deployed in South Korean territory, Kim said on Sunday, according to the state-run KCNA news agency.
During a meeting of the ruling Workers' Party of Korea (WPK), the country's leader insisted that a new ICBM capable of a "quick nuclear counter-strike" must be developed by North Korea.
Kim stressed the importance of "mass-producing tactical nuclear weapons," saying "an exponential increase of the country's nuclear arsenal" would be the "main orientation" of North Korea's defense strategy in 2023, KCNA reported.
Pyongyang is also planning to launch its first military satellite "at the earliest date possible," and this is in the final stages of development, the agency added.
On Saturday, Kim praised the country's defense industry for delivering 30 new 600mm super-large multiple rocket launchers to the military. He described the nuclear-capable system as the country's "core offensive weapon," which can strike anywhere in South Korea with surprise and precision launches.
"We have declared our resolute will to respond with nuke for nuke and an all-out confrontation for an all-out confrontation," he warned, as quoted by KCNA.
North Korea carried out a record number of missile tests in 2022, some of which involved ICBMs, according to calculations by Western media outlets. And it has already fired a short-range ballistic missile off its east coast in the early hours of the new year. Washington and Seoul have claimed that the North is gearing up for its nuclear test since 2017.
South Korean President Yoon Suk-yeol warned on Sunday that North Korea would continue with its nuclear and missile provocations, insisting that Seoul's military should respond to such moves with clear retaliation, according to his office.
On Monday, Pyongyang sent five drones into South Korean territory, with Seoul responding by flying three UAVs into North Korean airspace. South Korean Defense Minister Lee Jong-sup told parliament on Wednesday that President Yoon had ordered him to come up with a tit-for-tat response "even if that means risking escalation."
READ MORE: North Korea's leader sets new military goals for 2023
Tensions have been on the rise between the two neighbors since Yoon came to power in May and declared a "peace through strength" policy, which is based on further boosting military ties with the US. In late December, Seoul announced an increase in joint drills with the Americans, with 20 such exercises planned for the first half of 2023 alone.