WHO: Covid cannot ever be eradicated.
The Covid-19 virus will never be eliminated, despite the end of the emergency phase of the pandemic, the World Health Organization stated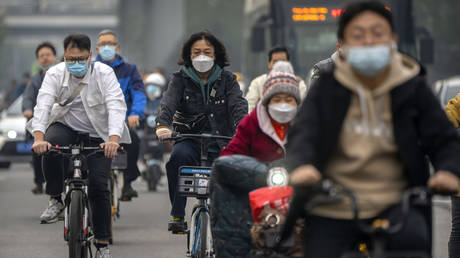 Despite proclaiming the end of the pandemic, the World Health Organization has said that it will be "impossible" to eliminate the virus itself
Covid-19 will never be eliminated or eradicated, as it can jump from humans to animals and back, World Health Organization emergency director Dr. Mike Ryan told reporters on Saturday.
Speaking a day after WHO Director General Tedros Adhanom Ghebreyesus officially downgraded the status of the disease from a global health emergency to a "global health threat," Ryan stressed that public health authorities still need to be "vigilant."
Asked whether the virus itself would ever be eliminated, Ryan replied "no, I don't believe so."
"What we see here is a virus that's evolved quickly," he elaborated. "It can move from humans to animals and from animals to humans, so it can hide in different spaces…not just in humans. It's very hard to think about an eradication or elimination."
Ryan added that vaccines and therapeutic drugs can eliminate "the public health threat associated with the virus," but that wiping out the virus itself would be "very unlikely, if not impossible."
The WHO has largely stuck to this line throughout the pandemic, even as vaccine proponents claimed that the jabs would stop the transmission of Covid-19, which turned out not to be true. "In the current situation it is unlikely we can eradicate this virus," Ryan told a briefing in May 2020, four months after the WHO first declared the virus a public health emergency.
Ryan said on Saturday that he expects infections to continue to spike every winter in the northern hemisphere, much like the flu or any other seasonal illness. However, he did not rule out the possibility that new variants of the virus may crop up during the summer "and cause a lot of transmission."
While most countries have dropped their pandemic control measures since early last year, the US still has a public health emergency in effect, which is not due to expire until next week. More than 1.1 million people died having Covid-19 in the US, more than in any other country, according to WHO statistics.
Globally, more than 765 million cases of Covid-19 have been recorded, and almost 7 million people have died while infected, the WHO claims. As of the end of April, a total of 13 billion vaccine doses have been administered.