US warns against North Korean satellite launch – media
The US urged North Korea to cancel the launch of its first spy satellite, suggesting the project could advance the DPRK's missile program ...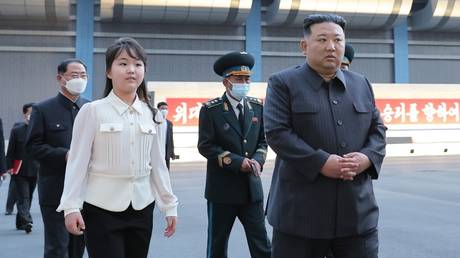 Pyongyang recently unveiled its first-ever military satellite and announced plans for its maiden flight
The US government has urged North Korea to cancel the launch of its first military satellite, suggesting the DPRK could use the project to advance its ballistic missile program while claiming any test-launch would violate United Nations resolutions.
Under past measures imposed by the UN, North Korea is barred from missile tests, a State Department spokesperson told Yonhap News on Thursday, adding that "Space launch vehicles (SLVs) incorporate technologies identical to, and interchangeable with, those used in ballistic missiles."
"Any DPRK launch that uses ballistic missile technology, which would include SLVs, violates multiple UN Security Council resolutions," the official added.
Pyongyang first announced the completion of a new surveillance satellite earlier this week, with North Korean leader Kim Jong-un saying that a launch was a top priority of the military and could occur by the end of the month.
"Possession of such a satellite is a primary task to be indispensably fulfilled to bolster up the armed forces of the DPRK ... and belongs to its sovereignty and legitimate right to self-defense," Kim said on Tuesday, as cited by the state-run Korean Central News Agency (KCNA).
The spy satellite was unveiled soon after the North tested another new weapon, a solid-fuel intercontinental ballistic missile (ICBM) dubbed Hwasong-18, which officials said would help the DPRK's nuclear counter-attack capabilities.
While Washington has repeatedly urged Pyongyang to cease its weapons tests, North Korea has conducted a record number of missile launches in recent months, citing an "anti-DPRK military posture" by the US and South Korea, which have carried out a flurry of live-fire war games over the last year. The North has denounced the joint drills as preparations for an attack, though the US claims they are purely defensive in nature.
US officials have also warned of a future North Korean nuclear test for several months, with the chief of US Forces Korea, Gen. Paul LaCamera, telling lawmakers on Thursday that "it is not a matter of 'if' DPRK will detonate another nuclear device but 'when.'" Although prior trials were not publicized ahead of time, the North has not announced plans for such a test, and insists on its right to develop its military arsenal to address threats to its security, including nuclear weapons.