US takes another swipe at Chinese chip industry
US proposes new rules to block government funding for semiconductor industry from aiding China...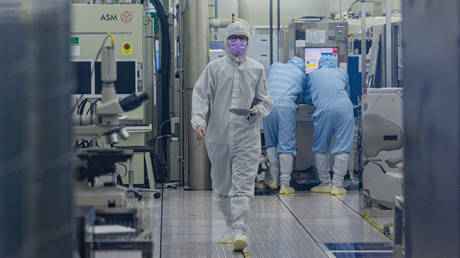 Chipmaking Industry
The Biden administration has proposed new restrictions to ensure that its semiconductor funding doesn't benefit Beijing
President Joe Biden's administration has taken another step in its campaign to block China from obtaining advanced semiconductor technology, proposing new restrictions to prevent US government funding from benefiting the Chinese chipmaking industry.
The US Department of Commerce proposed the new rules on Tuesday, saying they would help ensure that the government's $52 billion semiconductor fund bolsters the national security of Washington and its allies. The so-called "guardrails" are intended to prevent the government's chip industry incentives from being used for "malign purposes by adversarial countries against the United States or its allies and partners."
The "adversarial countries" reference was largely to China and Russia. The new restrictions would prevent recipients of government funding from using the money in other nations or investing in chip plants in "foreign countries of concern." Beneficiaries of the funds would also be barred from doing joint research or technology licensing with companies from those countries.
The Biden administration reportedly plans to introduce new export restrictions to further curb China's access to US chip technology. Washington imposed sweeping export controls last October, blocking Chinese companies from buying certain semiconductor manufacturing equipment or chips made anywhere in the world with US tools.
The US is so keen to curtail Beijing's advances in chipmaking technology that former national security advisor Robert O'Brien said last week that Washington would destroy Taiwan's semiconductor factories, if necessary, to prevent them from falling into China's hands. Taiwan's TSMC is the world's dominant maker of advanced computer chips, producing about 90% of the world's supply of the most cutting-edge semiconductors.
The Department of Commerce proposed even tighter restrictions on US semiconductor technology that the administration considers to be critical to national security. That include those chips used for quantum computing and specialized military applications, as well as those employed in radiation-intensive environments. Washington previously clamped down on semiconductors used for artificial intelligence.
Beijing last December filed a dispute with the World Trade Organization over US export curbs, arguing that Washington was abusing its regulatory powers to cut China off from high-tech components and obstruct normal trading. Chinese officials have also warned that the restrictions would disrupt supply chains and hurt the global economy.