US Senate passes dress code bill as govt shutdown looms
The SHow Our Respect to the Senate (SHORTS) Act, requiring male senators to wear long pants, passed unanimously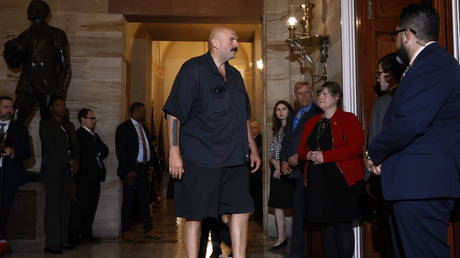 Pennsylvania Democrat John Fetterman's gym shorts apparently inspired the bipartisan effort to restore sartorial order
The US Senate unanimously approved a bipartisan resolution on Wednesday to restore a longstanding dress code requirement that male senators wear long pants. Democratic Senator John Fetterman's gym-shorts-and-hoodie uniform was believed to be the target of the resolution.
Senate Resolution 376, the SHow Our Respect to the Senate (SHORTS) Act, was introduced by Democrat Senator Joe Manchin, co-sponsored by Republican Senator Mitt Romney, and sailed through Wednesday's vote without vocal pushback from a single senator, even as disagreements between and within both parties delay the passage of spending bills required to keep the government from shutting down at the end of September.
Senate Majority Leader Chuck Schumer announced earlier this month that the chamber's traditional dress code – policed by the Senate Sergeant-at-Arms but apparently not written anywhere into the rules or laws governing official business – would no longer be enforced for senators.
While Schumer himself pledged to "continue to wear a suit" despite demolishing the "business attire" standard that Senate aides were still required to observe, several dozen Republican senators and even Schumer's fellow Democrat Manchin immediately spoke out against the move.
"Allowing casual clothing on the Senate floor disrespects the institution we serve and the American families we represent," an open letter to Schumer signed by 46 of his colleagues insisted, urging the New York Democrat to "immediately reverse this misguided action."
Fetterman became known for his hoodie-and-gym-shorts uniform while serving as lieutenant governor of Pennsylvania before coming to Washington last year. While he initially wore a suit on the Senate floor, since emerging from a prolonged hospitalization for clinical depression earlier this year, he has made the most of the opportunity extended by Schumer to resume wearing his preferred casual clothing for work, causing some of his colleagues great consternation. Before the dress code was repealed, those in violation were required to cast their votes from outside the chamber.
Fetterman's detractors have long accused him of choosing his self-described "slob" uniform to prop up a phony working-class persona, pointing out that it was his privileged background – with parents who financially supported him into his 40s – that allowed him to go into politics in the first place, taking a $150/year job as mayor of Braddock, Pennsylvania.
While the Senate was triumphing over sartorial anarchy, the House remained divided over the funding bills required to keep the lights on in Washington past Saturday. Republicans in the lower chamber have rejected the Senate's shutdown-avoidance proposal, which would only fund the government through November 17, and instead hope to pass a series of spending bills of their own on Thursday and Friday.