US reaches deal to free detained Americans in Iran – media
US and Iran reportedly agree to prisoner swap, release of Iranian assets to free five detained Americans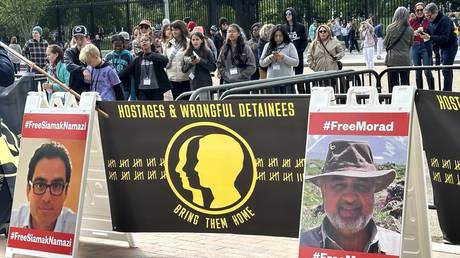 Washington has reportedly agreed to unfreeze $6 billion of Tehran's assets and release jailed Iranians
Washington and Tehran have reportedly come to terms on a prisoner swap in which five detained Americans will be released and the US will unfreeze about $6 billion in Iranian assets.
The tentative agreement also includes the release of five Iranians incarcerated in US prisons, multiple media outlets reported on Thursday, citing people familiar with the negotiations. President Joe Biden has signed off on the deal. It won't be considered final until the five Americans are back on US soil, which could take weeks, according to the reports.
Four of the five Americans have been released from Tehran's Evin Prison and are currently being detained under house arrest, the White House confirmed in a statement on Thursday. The other US citizen was already being held under house arrest. Three of the detainees were identified as Siamak Namazi, Morad Tahbaz and Emad Shargi. The two others requested that they remain anonymous.
"We will continue to monitor their condition as closely as possible," US National Security Council spokeswoman Adrienne Watson said in the statement. "Of course, we will not rest until they are all back home in the United States." She added that the negotiations are "delicate" and remain ongoing. "We will therefore have little in the way of details to provide about the state of their house arrest or about our efforts to secure their freedom."
Namazi, Tahbaz and Shargi were all accused of espionage. US officials have denied the charges and argued that they never should have been detained. Namazi was arrested in 2015, while Tahbaz and Shargi were both apprehended in 2018. Now 51 years old, Namazi was left out of a 2016 prisoner swap related to the Iran nuclear deal and has made public appeals for Biden to negotiate his release.
The $6 billion in Iranian funds included in the latest deal are currently held in a restricted South Korean account because of US sanctions. If the agreement is finalized, the money will be transferred to another country – reportedly Qatar – and made available to Iran with some strings attached. US officials seek to restrict the money's use for trade purposes that are permitted under Washington's sanctions.
The agreement apparently doesn't include any terms related to Iran's nuclear program. Washington quit the Iran nuclear deal, known officially as the Joint Comprehensive Plan of Action (JCPOA), in 2018. Biden pledged during his 2020 presidential campaign to revive and strengthen the JCPOA, but he hasn't been successful in doing so since taking office in January 2021.
US-Iran tensions have escalated since then-President Donald Trump pulled out of the JCPOA in 2018. Both sides are ramping up their military firepower in the Strait of Hormuz, the world's most important chokepoint for oil supplies.