US boosts military presence at border
The US military will deploy 1,500 soldiers to fill "critical capability gaps" the border with Mexico, but claimed the move is only temporary ...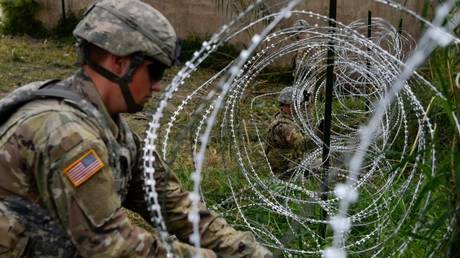 The move comes days after the White House authorized the use of reserve troops to combat the international drug trade
The US military has said it will deploy 1,500 soldiers to the border with Mexico in order to fill "critical capability gaps," saying additional manpower is needed due to personnel shortfalls at the Customs and Border Protection agency (CBP).
The Pentagon announced the decision on Tuesday, after Defense Secretary Lloyd Austin approved a "temporary" deployment to assist CBP efforts at the southwestern border at the request of the Department of Homeland Security..
"For 90 days, these 1,500 military personnel will fill critical capability gaps, such as ground-based detection and monitoring, data entry, and warehouse support, until CBP can address these needs through contracted support," Pentagon spokesman Pat Ryder said in a statement, adding that "Military personnel will not directly participate in law enforcement activities."
During a press briefing later on Tuesday, Ryder noted that the soldiers would arrive at the border by May 10, and that they would be active-duty troops from the Army and Marine Corps. However, he said the military is looking for ways to "replace these deploying forces" with reservists or National Guard personnel after the 90 days are up, in order to "return those active duty forces back to their home stations."
There are currently around 2,500 troops deployed at the border, most from the National Guard, who are assisting CBP with "detection and monitoring and aviation support," the Pentagon spokesman continued.
Asked whether the increased militarization at the border was in line with President Joe Biden's vows to overhaul US immigration policy, White House press secretary Karine Jean-Pierre argued the deployment was "a common practice" and stressed that military personnel will not be "interacting with immigrants or migrants." Instead, by serving in other roles, she said the troops will "free up Border Patrol agents to perform their critical law enforcement duties."
Over the weekend, Biden issued an executive order authorizing Secretary of State Antony Blinken and Secretary of Homeland Security Alejandro Mayorkas to use active-duty 'ready reserve' troops at the US-Mexico border to fight the illegal drug trade, which he deemed an "extraordinary threat" to US national security. The order came after the White House declared a national emergency in relation to international drug trafficking in 2021, handing the president additional powers to address the issue.
A number of Biden's Republican rivals, including 2024 hopeful and former President Donald Trump, have also proposed military solutions to problems at the border. In March, a group of 20 GOP lawmakers put forward a bill that would designate various drug cartels as "foreign terrorist organizations," while the Senate has proposed similar legislation, as well as a dedicated task force to take on drug gangs.