UK will help supply Ukraine with F-16s
UK Prime Minister Rishi Sunak said he would work to create an "international coalition" to provide Western fighter jets to Ukraine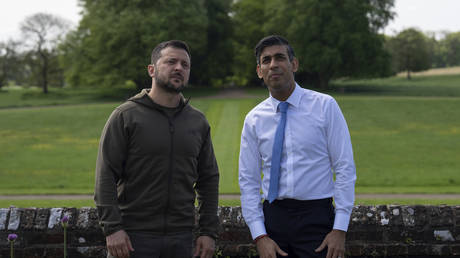 The British leader met with his Dutch counterpart to discuss ways to aid Kiev in its conflict with Russia
UK Prime Minister Rishi Sunak said he would work to create an "international coalition" to provide Western fighter jets to Ukraine, pledging to bolster the country's "combat air capabilities" alongside allies.
In a statement issued following a meeting with Dutch PM Mark Rutte at a Council of Europe summit on Tuesday, Sunak's office said the two leaders would take steps to help coordinate aircraft shipments to Kiev.
"[Sunak] and Prime Minister Rutte agreed they would work to build [an] international coalition to provide Ukraine with combat air capabilities, supporting [it] with everything from training to procuring F16 jets," 10 Downing Street said, stressing the "importance of allies providing long-term security assistance to Ukraine."
The prime minister did not specify what country might offer the American-made fighter jet, which is operated by more than two dozen nations, but suggested he would press allies to help facilitate the weapons transfers.
Ukrainian officials have requested the aircraft for months, with a senior Defense Ministry aide telling Politico on Monday that Kiev hopes to receive up to 50 F-16s from Washington and other partners. Since Moscow stepped up its use of guided glide bombs in March, the aide said Ukraine has "nothing to stop" Russian planes equipped with them.
Ukrainian President Vladimir Zelensky met with Sunak in an unannounced visit to the UK on Monday, where he called for a new "coalition of jets," an idea well received by the British PM. The concept has been proposed by Kiev and other allies before, with Poland also voicing interest in such a project after providing some of its own Soviet-era MiG-29 fighters.
Despite the renewed discussion of a jet coalition, some Western powers appear reluctant to supply advanced warplanes. Though Ukrainian pilots are already being trained to operate the F-16 by the US military – and will soon receive similar instruction from British pilots – American, German and French officials have indicated they would not be willing to supply jets from their own arsenals.
However, Washington has previously reversed course after declining to provide certain weapons systems, including the Patriot missile defense platform and the M1 Abrams main battle tank, both of which have since been pledged to Ukraine. Berlin, too, backtracked after refusing to transfer its Leopard 2 tank, agreeing to send the weapon earlier this year following pressure from allies.
Russia has repeatedly warned that deliveries of more sophisticated weapons to Ukraine could cross its 'red lines' and lead to a major escalation. According to Moscow, the arms, intelligence and training provided to Kiev's troops have already made Western nations de facto parties to the conflict.