UK to blast 'loud siren-like' alert to every phone in country
The government says that a new system will protect the public against a "range of threats"...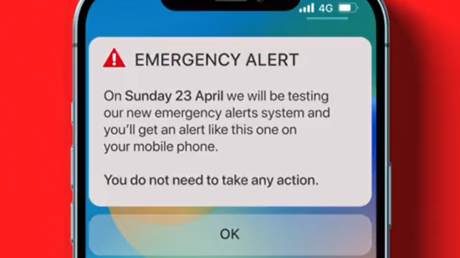 Mobile phone users across the UK will receive a loud alert message next month as the government tests an emergency warning system. The alerts will sound even if phones are on silent mode, and users will not be able to use their devices until acknowledging the warning message.
Described by the government as "life-saving," the emergency alerts system was launched on Sunday and will be tested nationwide in the early evening on April 23. The test alert will cause any phone connected to a 4G or 5G mobile network to vibrate and will be accompanied by "a loud siren-like sound" for up to ten seconds.
A warning message will then stay on the phone's screen, preventing normal use until it is acknowledged.
After the test, real warning messages will focus on severe weather related-incidents such as flooding or wildfires. However, the BBC reported that terror alerts may also be broadcast in the future.
Similar systems are already in use in the US, Canada, Japan, and the Netherlands.
"It will revolutionise our ability to warn and inform people who are in immediate danger, and help us keep people safe," Chancellor of the Duchy of Lancaster and MP, Oliver Dowden, said in a statement. "As we've seen in the US and elsewhere, the buzz of a phone can save a life."
Those who don't want their Sunday evening interrupted by a government klaxon, however, can switch emergency alerts off in their phone's settings menu.