Trump victory would be 'the end of Ukraine' – Clinton
If Trump is re-elected, it will be the "end of Ukraine," Hillary Clinton has said...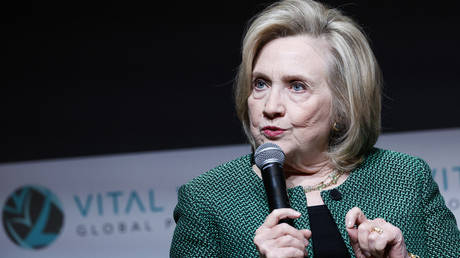 The former candidate also predicted that the ex-president will pull the US out of NATO if re-elected
If ex-US President Donald Trump is re-elected in 2024, it would be the downfall of both Ukraine and democracy in America, former Democratic presidential candidate Hillary Clinton warned on Saturday.
Speaking to the Financial Times, Clinton, who served as secretary of state under Barack Obama and lost to Trump in the 2016 election, said she does not believe that her former rival will be successful this time.
However, she claimed that if Trump does win in 2024, it will be "the end of democracy in the United States" and the "end of Ukraine," as he will withdraw the country from NATO.
Clinton went on to say that Russian President Vladimir Putin believed Trump would do so had he won the 2020 election. "Trump was the gift that kept giving to people like [Chinese leader Xi Jinping] and Putin," she said, accusing him of being "enamored of authoritarians" and "inept in any kind of strategic approach to China."
She added that Trump was "clearly going to do whatever Putin wanted on NATO."
Clinton also said she once believed that China was preparing to "make [a] move against Taiwan" within a few years, but the Ukraine conflict discouraged Beijing from attempting to reclaim the island, which it regards as part of its sovereign territory.
She went on to address widespread concerns that the current president, Joe Biden, 80, who confirmed that he would run again in late April, is too old for the job. While acknowledging that age is "an issue," she urged voters to compare him to the man he is running against.
Trump, who announced last November that he would run again in 2024, has been critical of Biden's approach to the Ukraine conflict. In January, he claimed that the president "is systematically, but perhaps unknowingly, pushing us into what could soon be World War III."
Trump has described himself as the "only candidate" capable of stopping the US from sliding into a global conflict, promising he would settle the conflict in Ukraine "very quickly" if elected.